[IOS FACTORY] Manhattan [Aqua] Handle Knob *HKAL
[IOS FACTORY] Manhattan [Aqua] Handle Knob *HKAL


Our Selling Price: US$46.20 [Regular Price: US$66.00]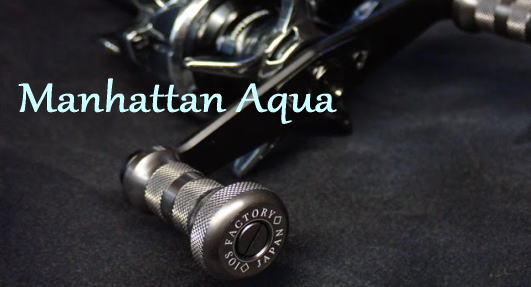 Corrosion-resistant, dustproof, and simple waterproof knob for salt

The Manhattan knob, a universal design for all fish species that has become a long-seller for its strong rigidity and ultimate footing in omni-directional positon, has been further brushed up.
Further weight reduction and 10 times rotational accuracy.
Equipped as standard with a simple waterproof, salt-compatible dustproof packing that has made reel custom makers around the world jealous.
It is also corrosion and dust resistant and has a stylish IOS FACTORY logo on the side for drinking together.
AQUA, the Latin word for water, literally means "water," and the "Manhattan Aqua" has been reborn as an all-weather knob that blocks threats from the water.
Please confirm the ultimate comfort of use, which Japanese craftsmen have been particular about.

Manhattan Aqua's dustproof mechanism has been submitted as a utility model.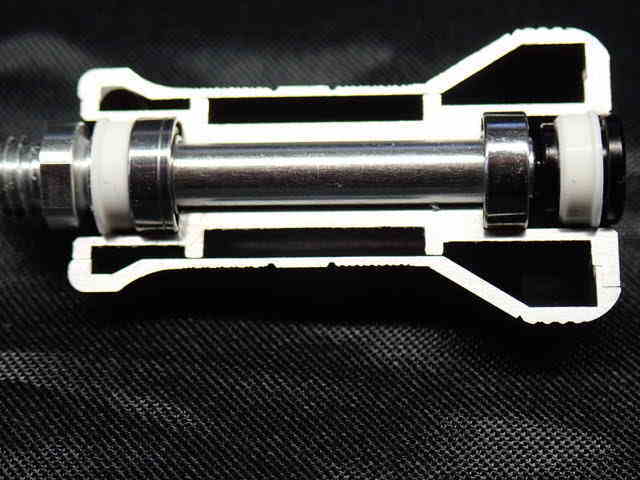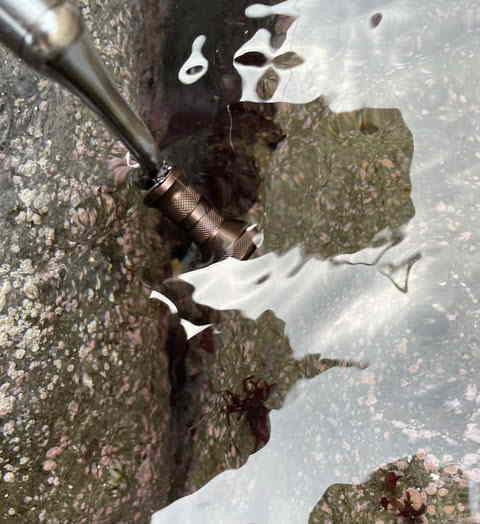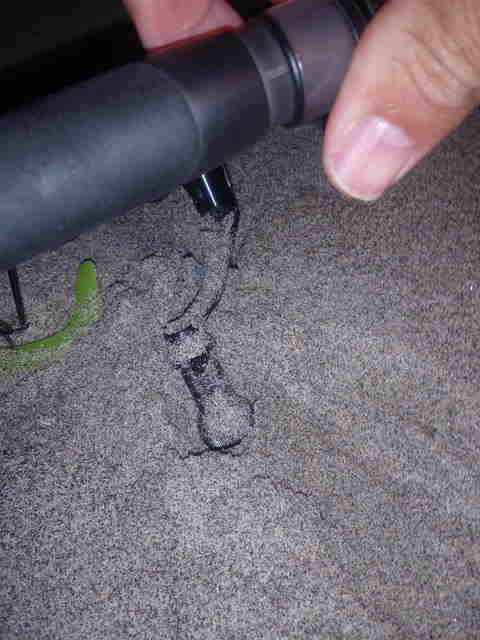 *Specifically tested for photography, submersion in water or sand can cause malfunctions and hasten the life of knobs and bearings.


1. Equipped with simple waterproof packing

Completely original simple waterproof packing is adopted.
The improved dustproof and simple waterproof performance makes this all-weather knob unaffected by season or weather.

It is not completely waterproof.


2. Perfect Balance

Weight of 5.4g (approx. 0.5g lighter than the conventional Manhattan) is achieved. (excluding bearings and end screws)
It supports experts who are concerned with delicate winding.


3. Perfect Retrieve Fit

On the contrary, by attaching a waterproof packing, the knob does not turn too much unnecessarily when touched by hand, and even with a feather touch, it has the characteristic of not turning colossally in the fingers.

For those who require remarkable rotational performance, the conventional rotational performance can be achieved by removing the waterproof packing. (However, the dustproof and waterproof performance is the same as the conventional product.)


4. Non-slip Performance

The non-slip surface finish allows for dry bare hands and gloves to be worn, as well as fast wrapping over the head and wrapping next to the head.
The 1.5-finger design enables retrieving and hooking from all directions, including quick reeling from a position, which is usually difficult with flat knobs.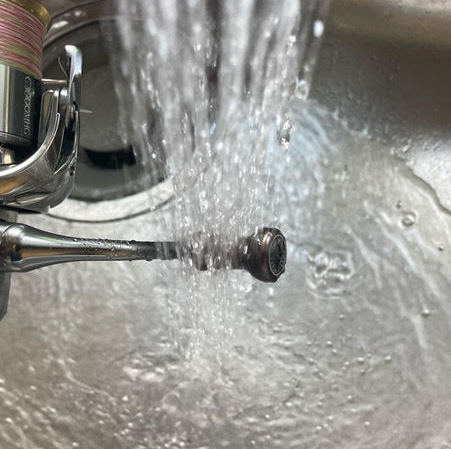 5. Improved Corrosion Resistance, Fully Salt-compatible

Corrosion-resistant materials are used from the main unit to the adjustment shim and bearings, not to mention the waterproof packing.
We have taken into consideration not only freshwater but also saltwater use.

*It is resistant to seawater corrosion, but it is not completely rust-free.


6. Easy Setting

Compatible with most current small and mid-sized reels from DAIWA and SHIMANO, as well as external handles from Funnel, REVIVE, RODIO CRAFT, and others.
The design allows relatively easy installation by anyone.


Color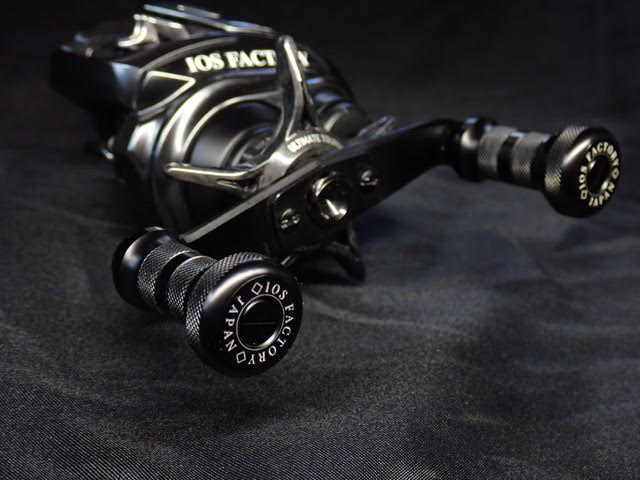 Matte Black

Matte black, a classic trendy color.
The semi-gloss finish highlights its corrosion resistance and high quality presence.
By matching it with black handles and body, it easily blends in with the overall color scheme and enhances the image of fearlessness.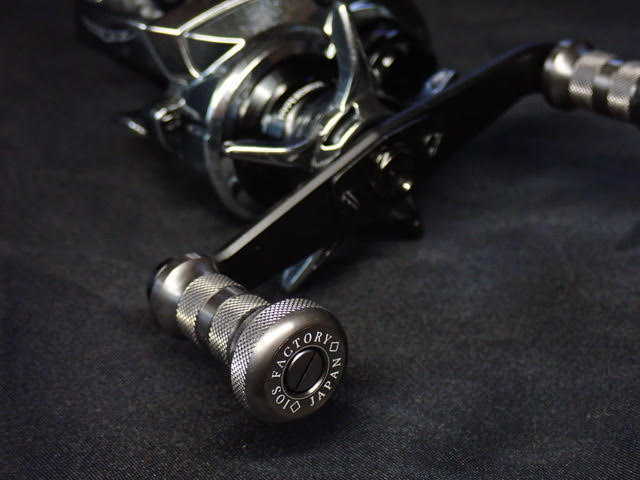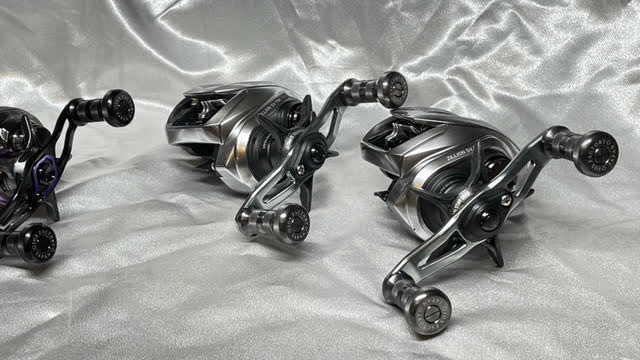 Gunmetal

The effect is gunmetal, but depending on the angle of view, it looks like shiny silver, black, or even brown.
The silver handles and body give a cooler impression when matched with silver handles and body.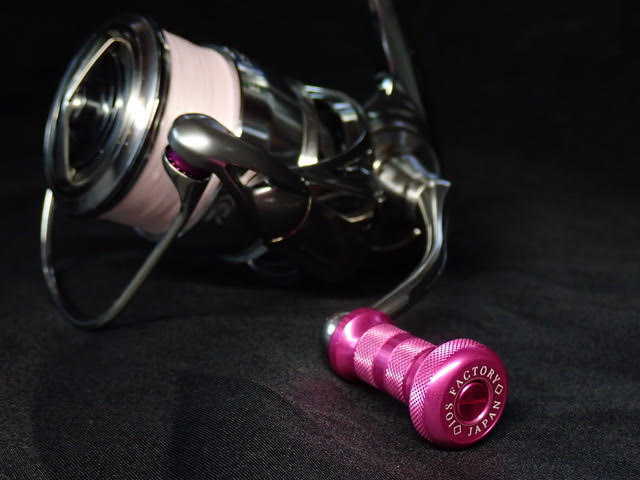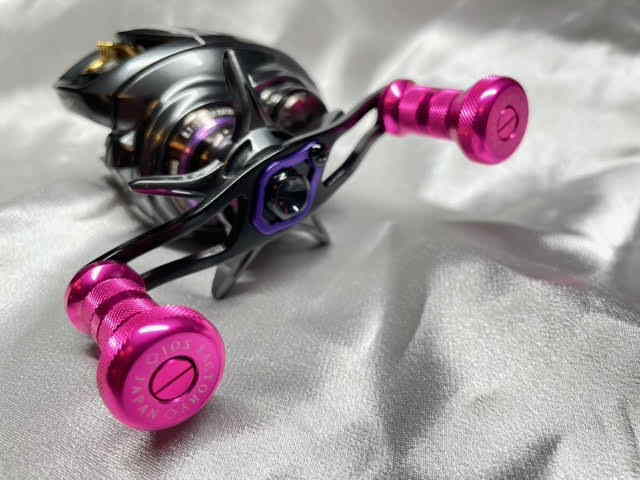 Pink

The color was toned to a lighter pink, keeping in mind its glamour and elegance.
Coordinating color schemes are popular with both men and women.
It appeals to the unique sense of fashion.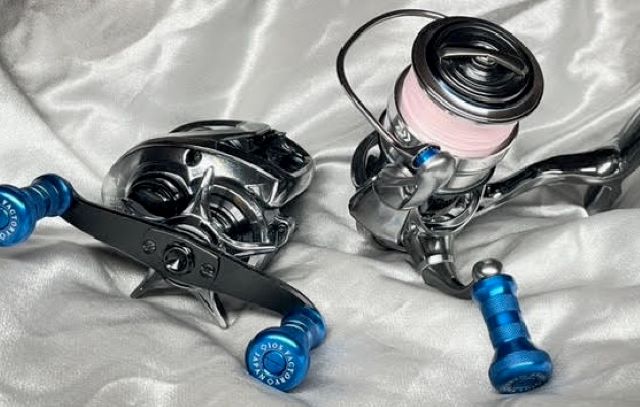 Blue

Manhattan Aqua now comes in a new blue color.
The unlikely blue color is a versatile player that looks great on both silver and black body reels.


Spec

Main unit (aircraft aluminum), dustproof packing (special rubber)
All stellens bearings, various adjustment shims and screws (corrosion-resistant)


Target Reels

SHIMANO (spinning & baitcating reels), DAIWA (spinning & baitcating reels)
*Some items may not fit.
IOS Handle, Funnel, REVIVE, RODIO CRAFT, ZPI


Accessories

2.6mm collar x 1, 0.1mm shim x 3, TSURAICHI 0.5mm shim x 1
End screw, Disk wrench, Dust-proof packing x 2, Special corrosion-resistant ball bearing x 2

Please read before installation

For fine adjustment, increase or decrease 0.1mm shim and TSURAICHI shim.
Please apply IOS-02 to each part when installing.
Apply IOS-drag grease to the white packing if durability is a priority.
If rotatability is a priority, apply IOS-02.
If you want more rotational performance, please use without packing.
Please do not allow parts cleaner to adhere to the packing.


SHIMANO Handle Spinning & Bait Reels (with step type)

Packing x 1 / BB x 1 / Main unit / BB x 1 / 0.1mm x 1-2 / TSURAICHI 0.5mm x 1 / Packing x 1 / End screw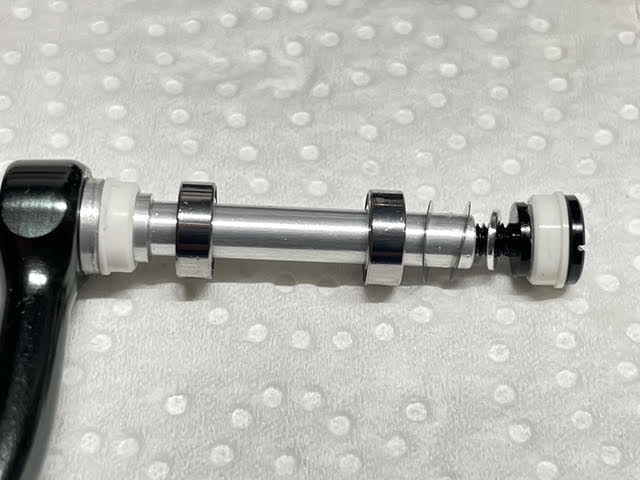 DAIWA Handle Spinning & Bait reels

0.1mm shim x 1 / 2.6mm collar x 1 / Packing x 1 / BB x 1 / Main unit / BB x 1 / 0.1mm x 1-2 / TSURAICHI shim 0.5mm x 1 / End screw + Packing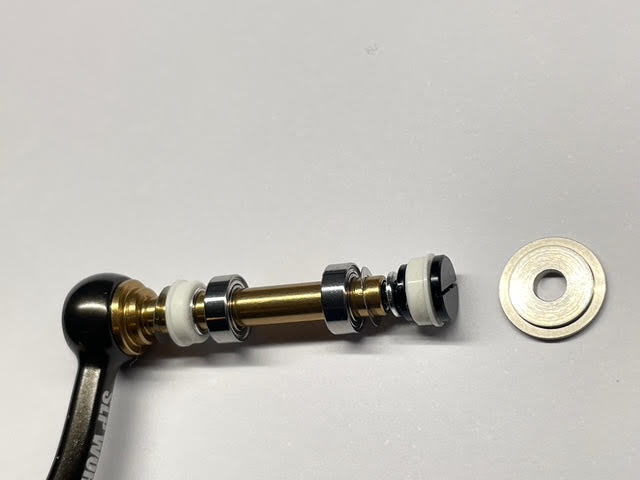 ZPI/REVIVE/RODIO CRAFT/Funnel

0.1mm × 1 / 2.6mm collar × 1 + Packing / BB × 1 / Main unit / BB × 1 / 0.1mm×0-1 / TSURAICHI shim 0.5mm × 1 / End screw + Packing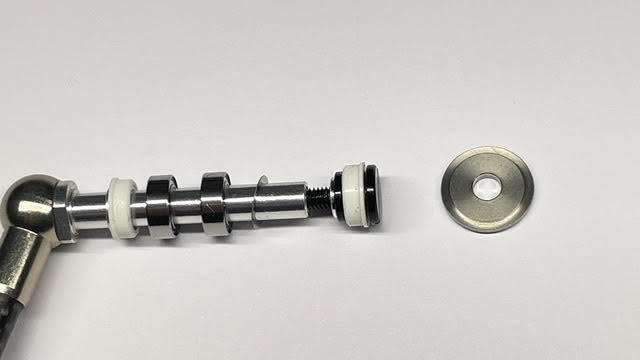 If the sound is shrill, apply IOS-02 to the bearing.
Oil from other manufacturers may cause abnormal noise and reduced durability.
For further rotatability, use without packing.
In that case, the durability is equivalent to that of a normal knob.

*Please note

Manhattan Aqua is a corrosion-resistant, dustproof, and simply waterproof knob, but submersion in water or sand can cause malfunctions and accelerate the life of the knob and bearings.