[Avail] ABU Microcast Brake AMB1540/AMB1520/AMB1520PE for ABU 1500C/2500C
[Avail] ABU Microcast Brake AMB1540/AMB1520/AMB1520PE for ABU 1500C/2500C

Our Selling Price: US$24.64 [Regular Price: US$35.20]

Model

Microcast Brake for Ambassadeur 1500C/2500C

MicrocastBrake AMB1520
MicrocastBrake AMB1520PE
MicrocastBrake AMB1540


Product Description

This is a part for converting the microcast spool for the ABU Ambassadeur 1500C, 2500C, and 3500C series reels into a magnet brake system.
This product is a magnet brake designed specifically for Avail spools. It helps reduce backlash when casting lightweight lures.
The braking force can be adjusted by changing the number of magnets.

In addition, when using a PE line for stream trout fishing and other activities, the spool weight becomes lighter.
With the conventional magnet combination, the effect may be too strong.
Therefore, we have added the "MicrocastBrake AMB1520PE," which changes the size of the included magnet.
Please try different combinations of magnet sizes and numbers to find the best setting for your tackle and casting method.


Engraved with Avail logo and product name.


Compatible Products

- Microcast Brake AMB1540 can be used with the following spools:

Microcast Spool AMB1540R
Microcast Spool AMB2540R
Microcast Spool AMB3540R

- Microcast Brake AMB1520 and AMB1520PE can be used with the following spools:

Microcast Spool AMB1520R
Microcast Spool AMB2520R
Microcast Spool AMB3520R

* Please note that there is no compatible brake for the Microcast Spool AMB2560R.
Please use it with a centrifugal brake.


Microcast Brake AMB1540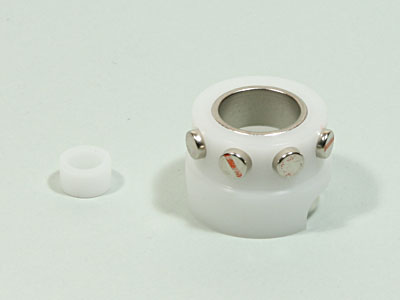 The main unit, four magnets (φ4 × 3.5mm), and spacers are included.
The spacers have slits in them.


Microcast Brake AMB1520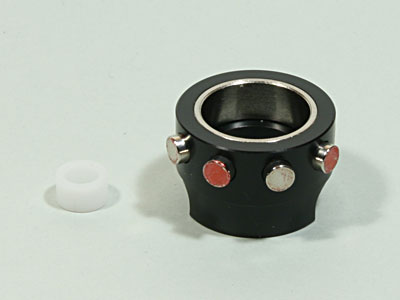 The main unit, four magnets (φ4 × 4mm), and spacers are included.
The spacers have slits in them.


Microcast Brake AMB1520PE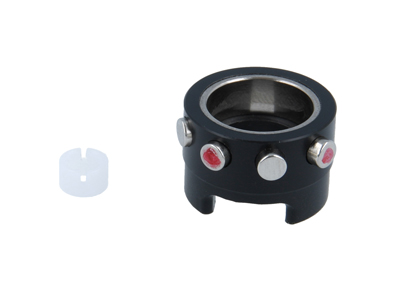 The main unit comes with a total of four magnets (2 pieces of φ4 × 4 mm, 1 piece of 3.5 mm, and 1 piece of 3 mm) and spacers.
The spacers have slits in them.


It is also possible to use both centrifugal and magnet brakes together.


Specification Table(Microcast Brake AMB1540)

- Material
Housing: Polyacetal resin (white)
Built-in metal parts: S45C (nickel-plated)
Magnetic part: Neodymium magnet

- Weight
Main unit: 3.6 g
Magnet: 0.33 g (per unit)

- Main Size
Main unit: φ20 × 14 mm
Magnet: φ4 × 3.5 mm

- Maximum number of magnets that can be attached
6 pieces

- Compatible Spools
Microcast Spool
Exclusive for AMB1540R/2540R/3540R


Specification Table(Microcast Brake AMB1520)

- Material
Housing: Polyacetal resin (black)
Built-in metal parts: S45C (nickel-plated)
Magnetic part: Neodymium magnet

- Weight
Main unit: 4.6 g
Magnet: 0.4 g (per unit)

- Main Size
Main unit: φ21.4 × 14 mm
Magnet: φ4 × 4mm

- Maximum number of magnets that can be attached
6 pieces

- Compatible Spools
Microcast Spool
Exclusive for AMB1520R/2520R/3520R


Specification Table(Microcast Brake 1520PE)

- Material
Housing: Polyacetal resin (black)
Built-in metal parts: S45C (nickel-plated)
Magnetic part: Neodymium magnet

- Weight
Main unit: 4.6 g
Magnet: 0.3 g - 0.4 g (1 piece)

- Main Size
Main unit: φ21.4 × 14 mm
Magnets: φ4 × 4.0 mm (2 pieces), φ4 × 3.5 mm (1 piece), φ4 × 3.0 mm (1 piece)

- Maximum number of magnets that can be attached
6ヶ

- Compatible Spools
Microcast Spool
Exclusive for AMB1520R/2520R/3520R


Instructions for use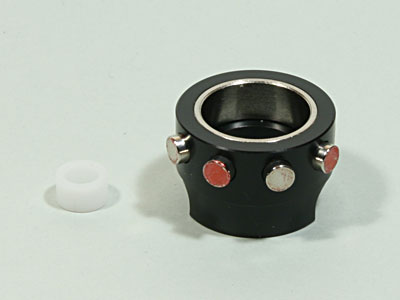 This is the product contents.
It includes the brake unit (on the right side) and the spacer (on the left side).
There are four magnets included.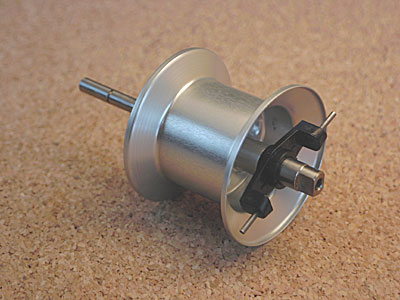 Remove the original centrifugal brake unit.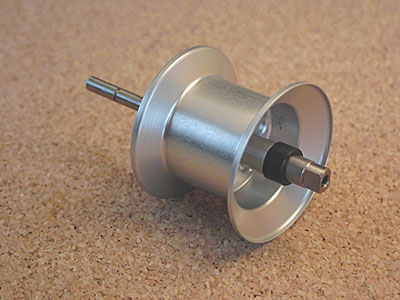 Attach the spacer to the place where you removed the original brake unit.
(The photo shows a black spacer, but the current one is white.)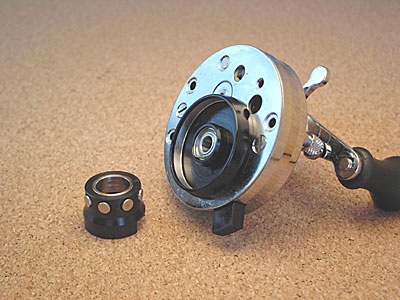 Attach the magnet brake unit to the handle side of the main unit.
The installation position is the housing that receives the shaft bearing.
(You can see the bearing near the center, but push the black area around it.)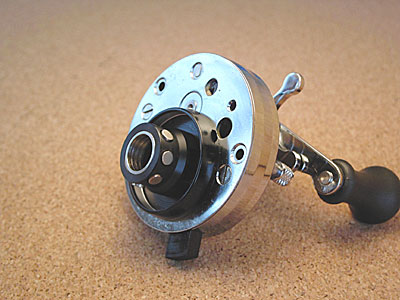 Push the brake unit all the way to the back.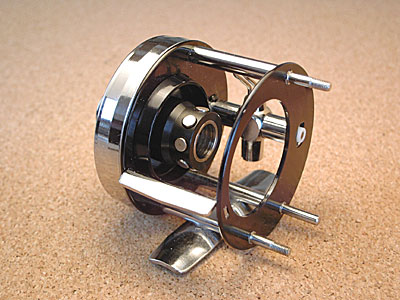 It can also be attached to the frame side of the main unit.
When used on this side, it can be used in conjunction with the original centrifugal brake.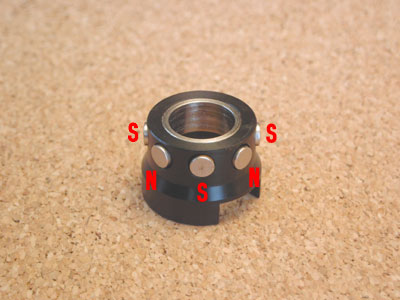 Arrange the magnets so that the north and south poles alternate, as shown in the photo.
There are eight magnet mounting holes on the brake unit, but arranging them continuously as shown in the photo will stabilize the magnetic field and also stabilize the brake force.

There are various patterns for arranging the magnets, so try to find the best one.

When removing the magnets, attach the wrench or iron included with the reel to the magnets and pull them out.
As it is a magnet with strong magnetic force, be careful not to approach it to items that are weak to magnetism such as watches, computers, and credit cards.

If there is backlash, increase the number of magnets. Conversely, if the brake is too strong, reduce the number of magnets or replace them with thinner magnets sold separately.