[ULCUS] Line Roller System Kit for SHIMANO, DAIWA Spinning Reels *SPLN
[ULCUS] Line Roller System Kit for SHIMANO, DAIWA Spinning Reels *SPLN


Our Selling Price: US$53.90 - US$55.44 [Regular Price: US$77.00 - US$79.20]
Prices vary according to options.

Product Description

By enlarging, increasing the rotation speed, and improving the accuracy of the bearing inside the line roller, you can expect improved sensitivity, better drag performance, and reduced line trouble.

You will be able to feel the difference, especially when using slippery lines such as the ester line or PE line.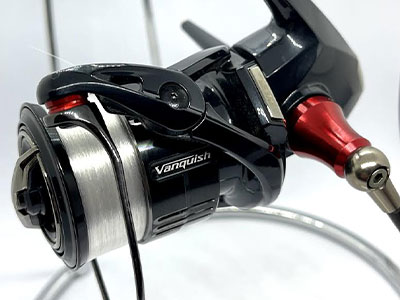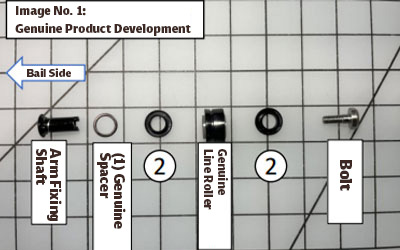 This is an exploded view of the genuine product.
You will use the arm fixing shaft, (1) genuine spacer, and bolt.
(2) The genuine line roller will not be used.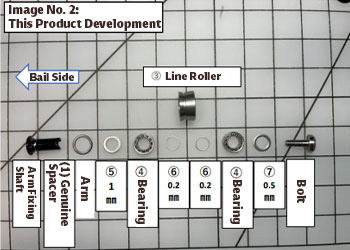 Image No. 2 is an exploded view of this product.
For the contents of the set, please refer to Image No. 1.

How to set Attach
The (1) genuine spacer to the arm fixing shaft and insert it into the bail (arm) (the (1) genuine spacer will be inserted between the fixing shaft and the arm).
Make sure to fit the arm fixing shaft firmly.

After that, please attach them in the order of the contents of the set and image NO.2.

(5) (1mm) → (4) (bearing) → (6) (0.2mm) → (6) (0.2mm) → (3) line roller → (4) (bearing) → (7) (0.5mm) → bolt in this order.

*The spacers (5) and (7) have front and back sides, so please attach the smooth side to the bearing side.
*Please note that the spacers in the set contents have different thicknesses.

*(2) The line roller will be used when you return it to the original, so please keep it carefully.


Color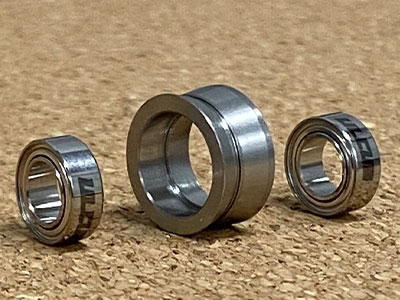 Silver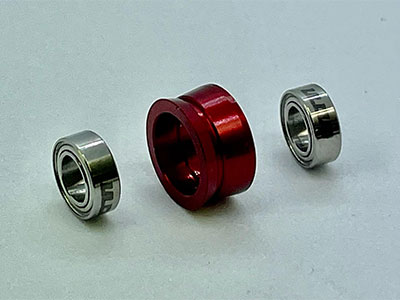 Red


Set Contents

- Line Roller 1 piece
- Bearing 2 pieces (outer diameter 7mm x inner diameter 4mm x thickness 2.5mm)
- Bearing Washer 4 pieces (thickness 1mm/1 piece, 0.2mm/2 pieces, 0.5mm/1 piece)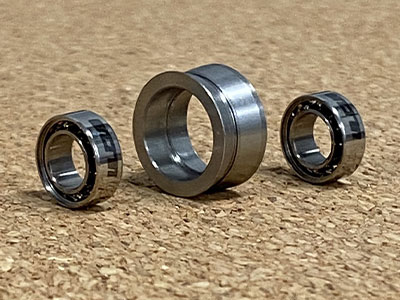 Open Type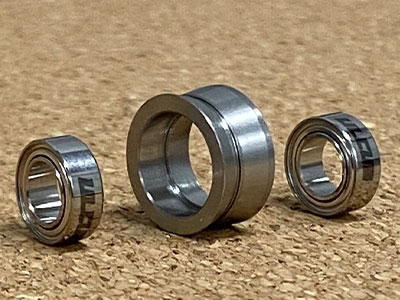 Shield Type


Compatible Models

SHIMANO

- 07/10/14/18/22 STELLA 1000 - 3000
- 11/15/17/20 TWIN POWER 1000 - 3000
- 12/13/16/17/19 Vanquish 1000 - 3000
- VANFORD C2000 - 3000
- STRADIC 1000 - 3000
- 08/12/18 CARDIFF 1000 - 3000
- 17/21 SoaRe (CI4)500 - C2000S

DAIWA TYPE 1

- 20 LUVIAS 2000 - 300
- LUVIAS AIRITY 1000 - 3000
- 18 EXIST 1000 - 3000
- 21 PRESSO 1000 - 2000

DAIWA TYPE 2

- 23 AIRITY 1000 - 3000
- 22 EXIST 1000 - 3000