【DAIWA】 Mechanical Brake Knob Superior B-type 【L size】
【DAIWA】 Mechanical Brake Knob Superior B-type 【L size】


Our Selling Price: US$14.08 - US$18.04
Prices vary according to options.
 Description



"Superior series" of mechanical brake knobs (L size) for DAIWA is released.
The Superior model makes the customizing higher quality than ever before.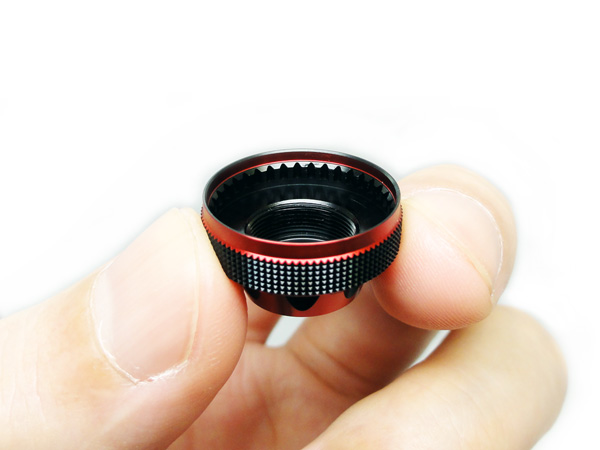 Since saw-toothed shape is done inside,
you will get the clicking sound by just replacing with it.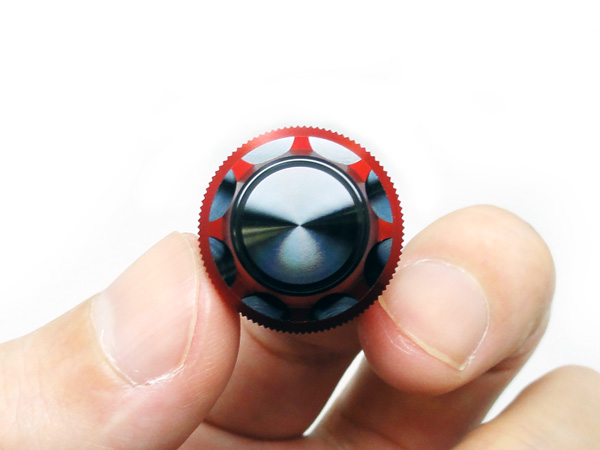 High-precision diamond cutting only for the Superior series!
Because of the excellent alumite by advanced cutting technology,
you can see the brilliant aurora color in black as well as in gunmetal color,
that differentiates from other custom parts.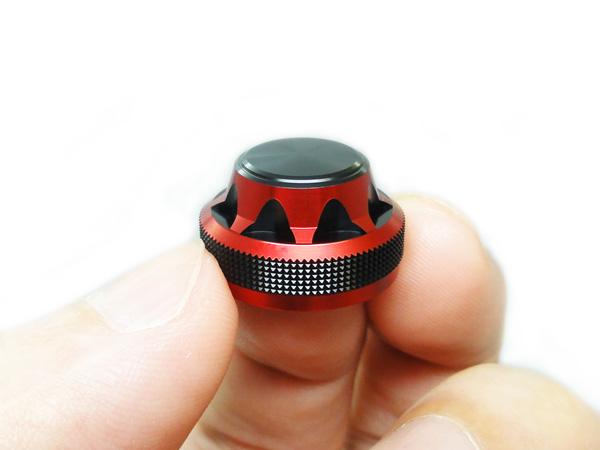 The design gives different impressions and brilliancy if looked at from different angles.
Also a lot of attention has been focused on how the knob would be felt with fingers when touching it.


Compatibility

■ZILLION SV TW
* (Please note that the DAIWA original star drag may contact a bit with the top of this Mechanical Brake Knob. It sometimes happens just because of individual difference.
If you replace the original star drag with an Offset Star Drag SD-ZTW-SF, the problem will be solved.)
( 1016SV, 1016SV-L, 1016SV-H, 1016SV-HL, 1016SV-SH, 1016SV-SHL, 1016SV-XXH, 1016SV-XXHL )


■SS AIR
( 8.1R, 8.1L )


■STEEZ LTD SV TN
( 103H-TN, 103HL-TN )
■STEEZ LTD
( 105XH, 105XHL )
■STEEZ SV
( SV6.3R, SV6.3L )
■STEEZ
( 100H, 100SH, 100HL, 103H, 103HL )


■T3 AIR
( 6.8R-TW, 6.8L-TW, 8.6R-TW, 8.6L-TW )
■T3 SV
( SV6.3R-TW, SV6.3L-TW, SV8.1R-TW, SV8.1L-TW )
■T3 MX
( 1016H, 1016HL, 1016SH, 1016SHL, 1016XH, 1016XHL )
■T3
( 1016H-TW, 1016HL-TW, 1016SH-TW, 1016SHL-TW )


■TD ZILLION
( 100P-CC, 100PL-CC, 100H, 100HL, 100SH, 100SHL )
■TD ZILLION J-DREAM
( 5.3R, 5.3L, 6.3R, 6.3L, 7.9R, 7.9L )
■TD ZILLION PE SPEACIAL
( 100H, 100HL, 7.9R, 7.9L )
■TD ZILLION HLC
( 100H, 100HL )
■TD ZILLION 7.3 LIMITED
( 100, 100L )


■TD-Z
( 100M, 100ML, 103H, 103P, 103ML, 105H)
■TD-Z
( 103H TYPE R, 103H TYPE R+, 103HL TYPE R, 103ML TYPE R+ )
■TD-Z
( 103HL, 105HL, 103HL TYPE R+ )
■TD-Z Big Bait Special L/R


■TD-ITO
( 103M, 103HL )
■TD-ITO
( 105HL)


( deps )

■DR-100ZX, DR-100ZXL
■ZDV1100H, ZDV100HL


( Megabass)

■IP79 L/R
■FX68 L/R
■IS79UC
■IS73C
■IS71HL
■IS64L

* In order to install this Mechanical Brake Knob on ZILLION SV TW, the installation is different from the common way. Refer to the "Instructions" section below for details.


 Color
BLACK x RED
BLACK x SAPPHIRE BLUE
BLACK x SKY BLUE
BLACK x ROYAL PURPLE
BLACK x PINK
BLACK x DEEP PURPLE
BLACK x ORANGE
BLACK x GOLD
BLACK x CHAMPAGNE GOLD
BLACK x GUNMETAL
BLACK x LIME GREEN
GUNMETAL x RED
GUNMETAL x SKY BLUE
GUNMETAL x ROYAL PURPLE
GUNMETAL x GOLD
GOLD (unicolor)
US$13.82
LIME GREEN (unicolor)
US$13.82

* This product is discontinued.
All colors are no longer available when they are sold out.
 Instructions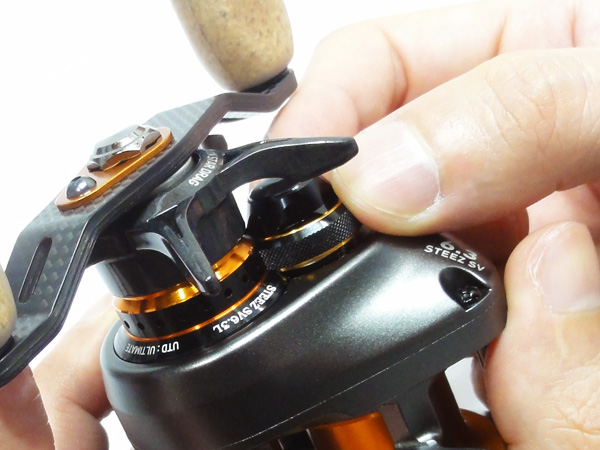 Take off the original mechanical brake knob.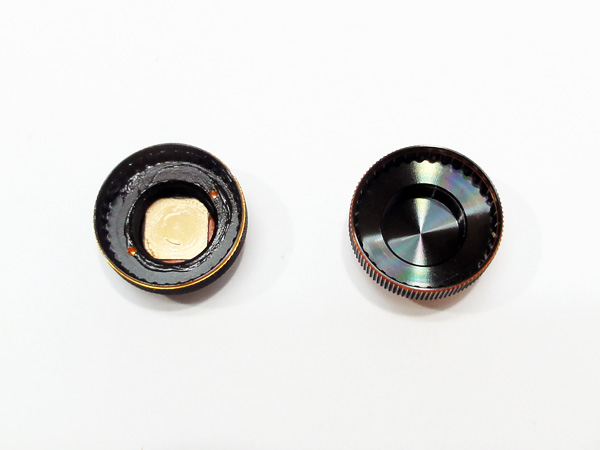 There are washers inside of the original knob.
Remove the washers and place them inside the new knob in the same way as previously.
Grease the saw-toothed shape part inside a bit if you like.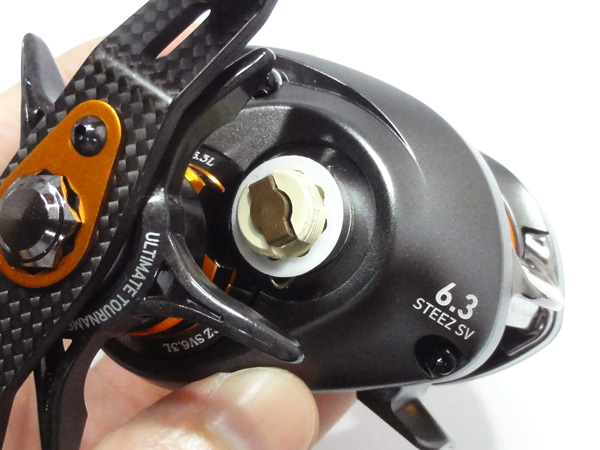 It's not necessary to remove any parts from the main unit.
The new type has been designed with clicking sound by just attaching it.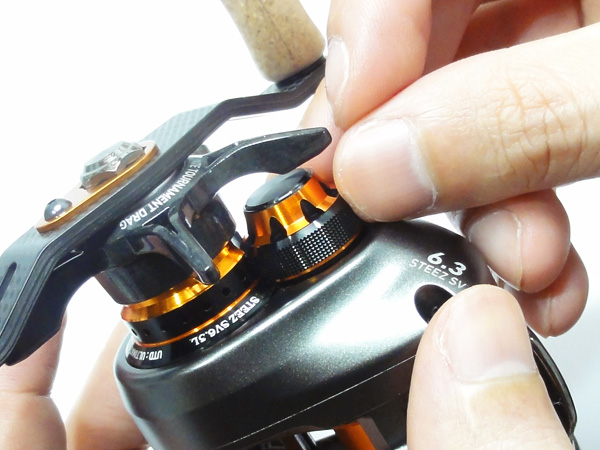 After removing washers, attach the new knob.
The pitch of a screw is made accurately.
When attaching it, keep the knob parallel to the reel and tighten slowly in the right way.
If the knob is lopsided, it doesn't screw up properly.
Please make sure not to tighten and damage the knob by force.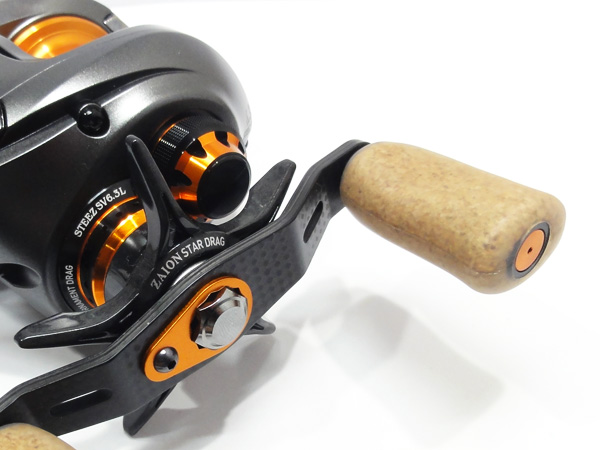 Just by replacing the mechanical brake knob, it gives considerably different impressions of reel.
Enjoy your own customizing!

* To install on ZILLION SV TW




In order to put this Mechanical Brake Knob on a ZILLION SV TW, you need to remove the O-shaped ring which is indicated by arrow in the photo above.




The O-shaped ring should be easy to be removed.
Then Mechanical Brake Knob can be installed. Don't forget to use washers from the original knob inside.




Please note that the DAIWA original star drag may contact a bit with the head of this Mechanical Brake Knob. It sometimes happens just because of individual difference.
If you replace the original star drag with an Offset Star Drag SD-ZTW-SF, the problem will be solved.

Offset Star Drag SD-ZTW-SF


 Gallery