【DAIWA】Offset Star Drag SD-ZTW-SF (ZILLION TW, STEEZ, SS, TATULA, T3, TD-Z, RYOGA, DAIWA Z)
【DAIWA】Offset Star Drag SD-ZTW-SF (ZILLION TW, STEEZ, SS, TATULA, T3, TD-Z, RYOGA, DAIWA Z)


Our Selling Price: US$61.38
 Product Concept

- The newly-designed star drag shape like "Snowflake" -

We adopted six long arms for this item, that brings you easy control by your fingertip.
Because of the advanced cutting technology, you can see the excellent shape and form of the product.

You will keep the clicking sound even after replacing with it only if the original star drag makes a clicking sound.

Please select for left or right handle.

weight : approx. 8.00g

provided with : 1 Stainless Washer, 3 Brass Washers



 Colors
| | | |
| --- | --- | --- |
| | | |
| | | |
| SAPPHIRE BLUE | SKY BLUE | RED |
| | | |
| | | |
| ROYAL PURPLE | PINK | DEEP PURPLE |
| | | |
| | | |
| LIME GREEN | ORANGE | GOLD |
| | | |
| | | |
| CHAMPAGNE GOLD | BLACK | GUNMETAL |
 Compatibility

・ ZILLION TW
・ ALPHAS SV
・ morethan PE SV
・ STEEZ, STEEZ SV, STEEZ SV LTD
・ SS SV, SS AIR
・ TATULA, TATULA Type-R
・ T3, T3 AIR, T3 SV, T3 MX
・ ZILLION
・ TD-Z
・ RYOGA
・ DAIWA Z

・ Megabass IS
・ Megabass IP
・ Megabass FX
・ Megabass LIN

* Please check the instructions below before purchasing.


 Instructions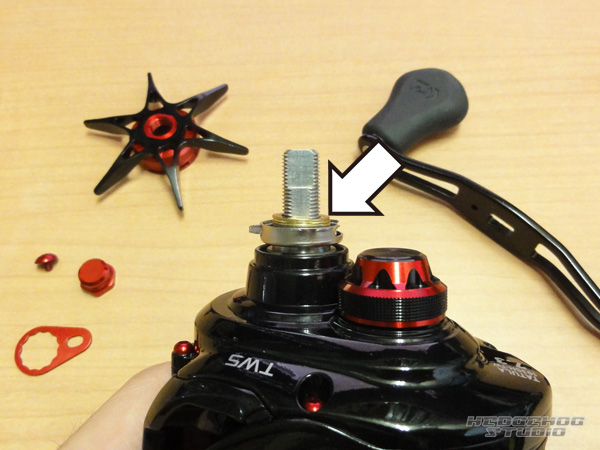 You can adjust the height of a new star drag by placing brass washers(Gold color) right under the star drag.
The more washers, the closer the star drag moves to the handle side.
We recommend that you try 2 brass washers first to see how it goes.


 Gallery