[DAIWA] 23 SALTIST TW PE SPECIAL (300XH, 300XHL) Worm Shaft Bearing Kit (+1BB)
[DAIWA] 23 SALTIST TW PE SPECIAL (300XH, 300XHL) Worm Shaft Bearing Kit (+1BB)


Our Selling Price: US$5.55 - US$8.40 [Regular Price: US$7.92 - US$11.99]
Prices vary according to options.
Description

This product is a tuning kit, Not a fishing reel.
Please select the bearing type.





SHG bearing

This is a highly sensitive bearing with excellent rotational performance.
The products were carefully selected by hand from a crowd of other bearings.
Rotational performance is superior to HRCB and nothing can match its ultimate smoothness.
It is ideal for highly sensitive reels that are challenged by sensitive tackle.





HRCB bearing

The new technique that metal itself is hard to get rusty very much by special manufacturing method is adopted.
The bearing is resistant to salt water, and the derusting performance is more than ten times compared with SHG.
It makes rotation feel like silky smoothness that's quite unique to HEDGEHOG STUDIO.
Also it helps tough fishing situations that require both rotation performance and durability at a high level.
This is the next-generation anti-rust bearing for Saltwater anglers.


How to choose bearings

SHG bearing
For freshwater fishing such as Bass/Trout fishing which attaches importance to sensitivity by using light weight lures

HRCB bearing
For overall saltwater fishing which attaches importance to anti-rust effect.
Although you can use SHG bearing on saltwater fishing, HRCB bearing is more suitable because of its durability.


Contents

Worm Shaft Bearing x 1 piece
(SHG-740ZZ or HRCB-740ZHi)

One bearing can be added to the worm shaft with this kit.
Installation instructions are not included.


Worm Shaft 1BB Specification Bearing Tuning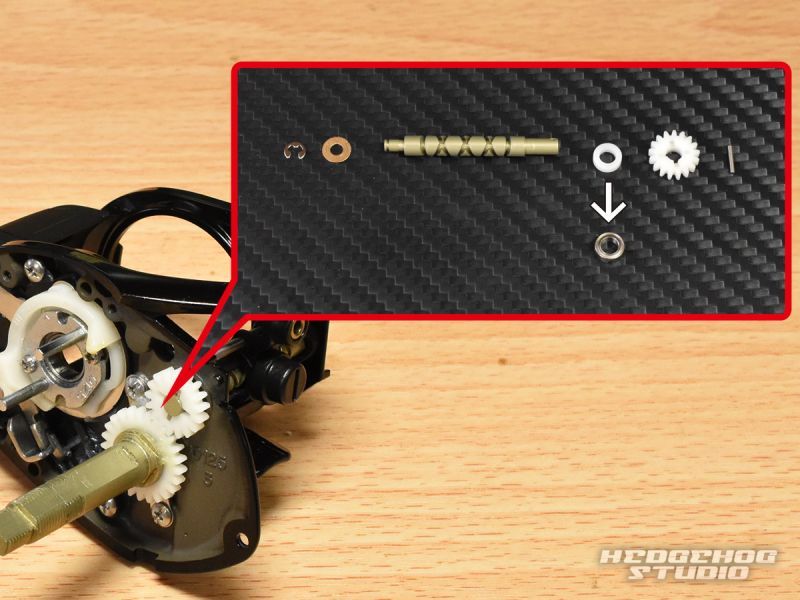 Replace the white plastic collar on one side of the worm shaft with a bearing.
When removing the front cover, structurally it is a little difficult to remove.
Please be careful not to damage the parts.


Compatible Reels

SHIMANO

- 21 ANTARES DC
( RIGHT, LEFT, HG RIGHT, HG LEFT, XG RIGHT, XG LEFT )

- 19 ANTARES
( RIGHT, LEFT, HG RIGHT, HG LEFT )

- 22 Bantam
( RIGHT, LEFT, HG RIGHT, HG LEFT, XG RIGHT, XG LEFT )

- 18 Bantam MGL
( RIGHT, LEFT, PG RIGHT, PG LEFT, HG RIGHT, HG LEFT, XG RIGHT, XG LEFT )

- 23 SLX DC
( 70 RIGHT, 71 LEFT, 70HG RIGHT, 71HG LEFT, 70XG RIGHT, 71XG LEFT )

- 22 SLX DC XT
( 70, 71, 70HG, 71HG, 70XG, 71XG )

- 21 SLX BFS
( R, L, XG R, XG L )

- 20 SLX DC
( 70, 71, 70HG, 71HG, 70XG, 71XG )

- 19 SLX MGL
( 70, 71, 70HG, 71HG, 70XG, 71XG )

- 22 ALDEBARAN BFS
( HG RIGHT, HG LEFT, XG RIGHT, XG LEFT )

- 18 ALDEBARAN MGL
( 30, 31, 30HG, 31HG )

- 16 ALDEBARAN BFS
( XG RIGHT, XG LEFT )

- 15 ALDEBARAN
( 50, 50HG, 51, 51HG )

- 23 Metanium
( 100HG RIGHT, 101HG LEFT, 100XG RIGHT, 101XG LEFT )

- 22 Metanium SHALLOW EDITION
( R, L, HG R, HG L, XG R, XG L )

- 20 Metanium
( RIGHT, LEFT, HG RIGHT, HG LEFT, XG RIGHT, XG LEFT )

- 16 Metanium MGL
( RIGHT, LEFT, HG RIGHT, HG LEFT, XG RIGHT, XG LEFT )

- 21 Scorpion DC
( 150, 151, 150HG, 151HG, 150XG, 151XG )

- 21 Scorpion MD
( 300XG, 301XG, 300XG LH, 301XG LH )

- 19 Scorpion MGL
( 150, 151, 150HG, 151HG, 150XG, 151XG )

- 17 Scorpion BFS
( BFS, XG )

- 17 Scorpion DC
( 100, 101, 100HG, 101HG )

- 16 Scorpion
( 70, 71, 70HG, 71HG, 70XG, 71XG )

- 14 Scorpion
( 200, 201, 200HG, 201HG )

- 16 CASITAS MGL
( 100, 101, 100HG, 101HG )

- 17 CHRONARCH MGL
( 150, 151, 150HG, 151HG, 150XG, 151XG )

- 22 CURADO DC
( 200HG, 201HG, 200XG, 201XG )

- 15 CURADO
( 200, 201, 200HG, 201HG, 200PG )

- 22 EXSENCE DC
( XG R, XG L )

- 20 EXSENCE DC SS
( HG R, HG L, XG R, XG L )

- 22 GRAPPLER BB
( 150HG, 151HG )

- 21 GRAPPLER
( 150HG, 151HG )

- 19 GRAPPLER CT
( 150XG, 151XG )

- 18 GRAPPLER PUREMIUM
( 150XG, 151XG )

- 17 GRAPPLER
( 300HG, 301HG )

- 16 GRAPPLER BB
( 200HG, 201HG )

- 16 GRAPPLER CT
( 150HG, 151HG )

- 17 Stephano SS
( 100HG, 101HG )

- 16 Stephano
( 100XG, 101XG )

- 17 Stile SS
( 150PG, 151PG, 150HG, 151HG )

- 16 Stile
( 100PG, 101PG, 100XG, 101XG, 100HG, 101HG )

- 22 ENGETSU BB
( 100PG RIGHT, 101PG LEFT, 100HG RIGHT, 101HG LEFT )

- 21 炎月-ENGETSU
( 100PG, 101PG, 100HG, 101HG, 150HG, 151HG )

- 19 炎月-ENGETSU CT
( 150HG, 150PG, 151HG, 151PG )

- 18 炎月-ENGETSU PUREMIUM
( 150HG, 150PG, 151HG, 151PG )

- 17 炎月-ENGETSU
( 100HG, 101HG )

- 16 炎月-ENGETSU
( 100PG, 101PG )

- 17 炎月-ENGETSU CT
( 100HG, 101HG )

- 15 炎月-ENGETSU CT
( 100PG, 101PG )

- 17 炎月-ENGETSU BB
( 100HG, 101HG )

- 16 炎月-ENGETSU BB
( 100PG, 101PG )


DAIWA

- 16 ZILLION HD USA model
( ZLNHD100HS, ZLNHD100HSL )

- ZILLION TW (TWS) USA model
( ZLNTW100H, ZLNTW100HL, ZLNTW100HS, ZLNTW100HSL, ZLNTW100P )

- 21 TATULA TW 300/400
( 300, 300L, 300XH, 300XHL, 400, 400L, 400H, 400HL )

- 17 TATULA SV TW
( 6.3R, 6.3L, 7.3R, 7.3L, 8.1R, 8.1L )

- 21 ALPHAS SV TW
( 800H, 800HL, 800XH, 800XHL )

- 23 SALTIST TW PE SPECIAL
( 300XH, 300XHL )

- 19 BASS X
( 80SH, 80SHL )

- 23 SEAHAWK TW ENTO