[Avail] ISUZU Microcast Brake (Magnet Brake) MB-BC for BC series
[Avail] ISUZU Microcast Brake (Magnet Brake) MB-BC for BC series

Our Selling Price: US$24.64 [Regular Price: US$35.20]
Model

Microcast Brake BC


Description

It is a part to make the microcast spool for ISUZU BC series a magnet brake specification.
This product is a magnet brake exclusively for Avail spools.
It cannot be used for spools made by other companies such as genuine Isuzu spools.

Two magnets of φ4 2.0mm, 3.0mm and 4.0mm are attached.
The maximum thickness of the magnet that can be used for each spool is described in the "Compatible products" item below, so be sure to use a magnet with a thickness less than that.
Installing the wrong size magnet will damage or damage the spool.


Related Items

Magnet MAG φ4 × 2m
A magnet with a diameter of φ4 is suitable.
Regarding the thickness, pay attention to the thickness limit for each spool described in the corresponding product column.


Compatibility

Spool with Microcast Brake BC
* () Is the maximum thickness of the magnet that can be used.

BC420 PESCATORA series
Microcast Spool BCP4220TR2 (5.0mm)

BC420 series
Microcast Spool BC4215TR2 (5.0mm)
Microcast Spool BC4227R2 (4.0mm)
Microcast Spool BC4240R (2.5mm)

BC520 series
Microcast Spool BC5224TR2 (5.0mm)
Microcast Spool BC5240R2 (3.5mm)
Microcast Spool BC5252R2 (2.0mm)


Spec

Material

Housing part: Polyacetal resin (black)
Built-in metal part: S45C (nickel plated)
Magnet part: Neodymium magnet

Weight

Body: 4.0g
Magnet: 0.3?0.4g(1ヶ)

Main size

Body: φ20.8×12.5mm
Magnet: φ4×2.0mm
Magnet: φ4×3.0mm
Magnet: φ4×4.0mm

Maximum number of magnets attached
6 pieces


Instructions

* The installation photo is ABU Ambassadeur 2500C.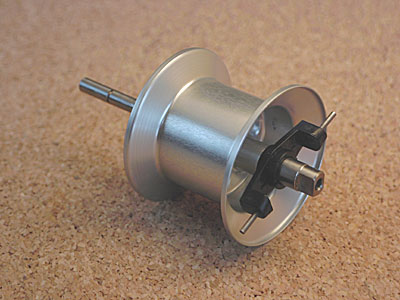 Remove the genuine centrifugal brake body.

For the BC520 microcast spool, insert disposable chopsticks from the back side and hold the spool and disposable chopsticks straight.
You can remove it by tapping the bottom of disposable chopsticks on the desk.
Excessive force may cause damage or injury, so be sure to tap it with light force many times to remove it.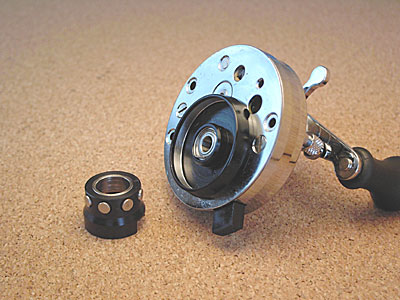 Attach the magnet brake body to the handle side of the body.
The mounting position is the housing of the bearing that receives the shaft.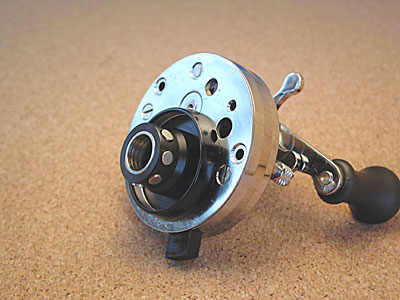 Push the brake body all the way in.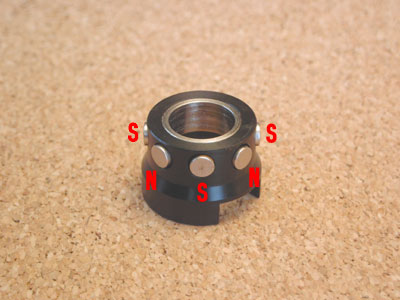 The magnet should have N poles and S poles arranged alternately as shown in the picture.
In addition, there are 8 magnet mounting holes in the brake body, but if they are arranged continuously as shown in the photo, the magnetic field will be stable and the braking force will be stable.

There are many possible placement patterns, so try to find the best.

When removing the magnet, attach the wrench or iron attached to the reel to the magnet and pull it out.
Since it is a magnet with strong magnetic force, be careful not to bring it close to objects that are weak against magnetic force, such as watches, computers, and credit cards.

If backlash occurs, increase the number of magnets.
On the contrary, if the braking effect is strong, reduce the number or replace with a thin magnet (sold separately).