[Avail] ABU Aluminum Click Wheel with built-in Bushing for Ambassadeur 1500C, 2500C, 3500C series
[Avail] ABU Aluminum Click Wheel with built-in Bushing for Ambassadeur 1500C, 2500C, 3500C series


Our Selling Price: US$16.17 [Regular Price: US$23.10]

Aluminum Click Wheel with built-in Bushing for Ambassadeur 1500C, 2500C, 3500C series


Model

Aluminum Click Wheel with built-in Bushing 997 for IAR
25C-CLK-WHL-COMP-IAR-997


Description

This is a new type of Aluminum Click Wheel that integrates the genuine ABU part "#22001 Handle Bushing" with our popular "Aluminum Click Wheel for 2500C".

By replacing the material of the bushing part with extra super duralumin, it is possible to reduce the weight more than ever.
The total weight of the genuine Click Wheel (3.3g) and sleeve (2.1g) is 5.4g, but if you replace it with this product, it will be 2.4g, which is a weight reduction of 3g.

In addition, since the bushing part is designed to be slightly thinner than the genuine one, resistance with the one-way clutch bearing is reduced and improvement in winding comfort can be expected.

* If the rollers of the one-way clutch bearing are significantly worn, the anti-reverse may not work and the handle may reverse.
Please refrain from using it for individuals whose winding comfort has become significantly lighter due to use (excluding performance improvement due to tuning).
In that case, we cannot accept returns or exchanges.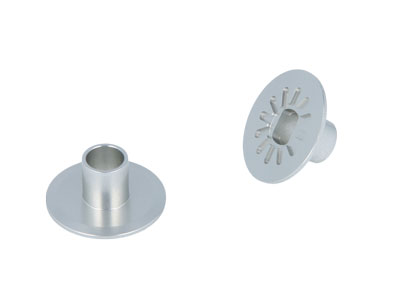 The material has been changed from stainless steel to extra super duralumin to make it lightweight.
By changing the material, the sound when dragging will change and the volume will decrease.
When using our high-speed main gear, the sound can be greatly adjusted by bending the tip of the sound output plate upward at a position of about 2 mm.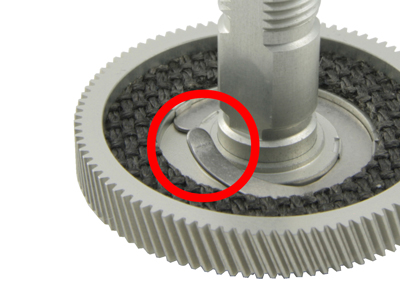 High-speed main gear sound board
The part about 2mm from the tip is bent to increase the volume.


Spec

Material
Body: Extra super duralumin (hard alumite processing)

Weight
2.4g

Genuine weight
Click Wheel 3.3g
Bushing 2.1g


Compatibility

500CI/1500C IAR/
2500CI/2500C IAR/3500CA LIMITED etc.
Reel with IAR (Instant Anti Reverse) mechanism and # 21908 or # 24970 parts
There is also an IAR-equipped model with a 2500C stamp on the reel.


How to Use

To install, just replace the genuine parts.
Please disassemble and replace.
When assembling, please be careful not to lose the parts.