[SHIMANO] 20 TWIN POWER (TWIN POWER FD) Spare Spool
[SHIMANO] 20 TWIN POWER (TWIN POWER FD) Spare Spool

Our Selling Price: US$76.67 - US$95.37 [Regular Price: US$90.20 - US$112.20]
Prices vary according to options.
■ Product Description
SHIMANO genuine spool of the 20 TWIN POWER series.
The purchased spool can be used immediately by attaching it to your reel.
■Long Stroke Spool
Long stroke spool is also installed on NEW TWIN POWER. Achieves a distance increase of approximately 5% compared to conventional models with the C3000 size.
NEW TWIN POWER may deliver to that point where the lure does not always reach (according to our flight distance test in the dome) .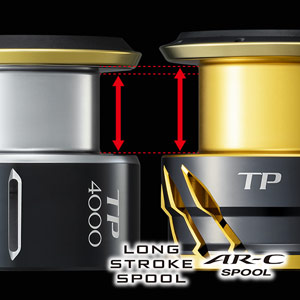 ■ AR-C Spool
In order to achieve the two objectives of "without trouble" and "prolonging the flight distance", SHIMANO original processing technology has made the spool lighter.
Due to the "line rectifying effect" due to the special shape of the spool ring, the line emission is adjusted to the best condition.
■Washer Types
Made from felt with smooth sliding from No. 1000 to No. 4000, and cross carbon washers with emphasis on durability for No. C5000.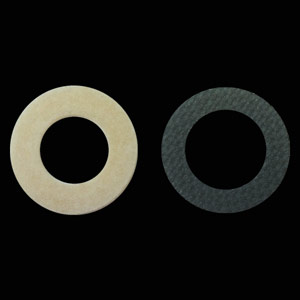 ■New Shape Line Clip
Adopts a new shape clip that is easy to remove and has improved holding power. Widely applicable from Esters No. 0.2 to 40 pounds of fluorocarbon.
* STELLA in the photo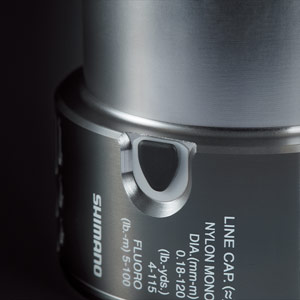 ■Specifications
Part numbe
Practical/maximum
drag force (kg)
Nylon bobbin volume (lb-m)
Fluoro winding amount (lb-m)
PE bobbin volume (No.-m)
C2000S
2.0/3.0
3-125、4-100、5-75
3-110、4-85、5-65
0.6-150、0.8-110、1-80
C2000SHG
2.0/3.0
3-125、4-100、5-75
3-110、4-85、5-65
0.6-150、0.8-110、1-80
2500S
2.5/4.0
5-110、6-95、8-70
4-130、5-100、6-80
0.6-200、0.8-150、1-120
2500SHG
2.5/4.0
5-110、6-95、8-70
4-130、5-100、6-80
0.6-200、0.8-150、1-120
C3000
3.5/9.0
Nylon (No.-m)2.5-180、3-150、4-100
Fluoro (No.-m)2.5-160、3-130、4-100
1-400、1.5-270、2-200
C3000MHG
3.5/9.0
8-130、10-110、12-85
8-110、10-90、12-80
1-190、1.2-150、1.5-120
C3000XG
3.5/9.0
Nylon (No.-m)2.5-180、3-150、4-100
Fluoro (No.-m)2.5-160、3-130、4-100
1-400、1.5-270、2-200
3000MHG
3.5/9.0
8-130、10-110、12-85
8-110、10-90、12-80
1-190、1.2-150、1.5-120
4000
6.0/11.0
Nylon (No.-m)3.5-170、4-150、5-125
Fluoro (No.-m)3-190、4-145、5-115
1-490、1.5-320、2-240
4000PG
6.0/11.0
Nylon (No.-m)3.5-170、4-150、5-125
Fluoro (No.-m)3-190、4-145、5-115
1-490、1.5-320、2-240
4000MHG
6.0/11.0
Nylon (No.-m)2.5-160、3-120、4-90
Fluoro (No.-m)3-110、4-90、5-65
1.2-250、1.5-200、2-150
4000XG
6.0/11.0
Nylon (No.-m)3.5-170、4-150、5-125
Fluoro (No.-m)3-190、4-145、5-115
1-490、1.5-320、2-240
C5000XG
6.0/11.0
Nylon (No.-m)4-190、5-150、6-125
Fluoro (No.-m)4-170、5-135、6-115
1.5-400、2-300、3-200
■Compatibility
◆ Yumeya: S-27 group
C2000S
C2000SHG
◆ Yumeya: S-20 group
2500S
2500SHG
C3000
C3000MHG
C3000XG
3000MHG
◆ Yumeya: S-28 group
4000
4000PG
4000MHG
4000XG
C5000XG