[DLIVE] AIR DLIVE W Double handle for Spinning SHIMANO/DAIWA
[DLIVE] AIR DLIVE W Double handle for Spinning SHIMANO/DAIWA


Our Selling Price: US$203.50
Unspecified
Drive Special billet parts
spinning reel for "double handle" area / write games for
Wave air drive W (AIR DLIVE DOUBLE)
the weight of the shock to break all of the concept specs 17.5g~
ultra-lightweight double handle Wave "Air Drive W" finally appeared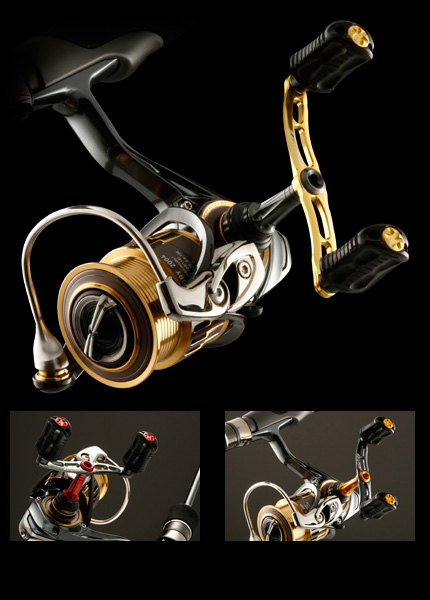 Double stability of the handle, special billet handle that combines the speed of the initial motion of the single handle
the disadvantages of double handle to support a more stable retrieve increase in weight.
"Air Drive W" is making the best use aluminum billet technology, the structure was thoroughly suppressed the loss subjected to the last minute to lightening capable of maintaining rigidity, lighter best-in-class by the design.
High sensitivity, of course, can be wound can flexibly be fine action or digital winding speed even during even retrieve while staggering a double handle of the beginning of the initial.
65mm support more accurate retrieve, and effective in cranking and certain of winding is required scene, 75mm is effective in such bottom fishing where there is a need to take quickly the situation and yarn dandruff required torque To do.

Various knob corresponding knob shaft specifications
similar to the air steer 45mm, Shimano, beginning with genuine knob can be mounted and the Daiwa.
In response to various situations and fish species, it can be retrieved at the knob familiar have.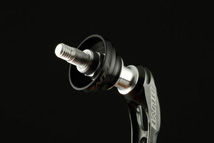 Joint system (1)
Center shaft, uses the aluminum / duralumin to the knob shaft. Desorption is tangled, the strength of the joint required has been applied "hard anodized".
※ You are using a photo of some single-handle air steer.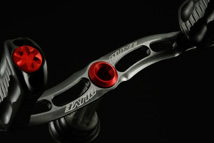 Joint System (2)
a conventional aluminum center shaft stainless joint shaft 2 parts structure by finished in minimalist 1 conjugated structure with aluminum and plastic parts, succeeded in significantly lighter.
Also, close to the reel side until the last minute size of the center shaft, it has achieved a more linear winding sense.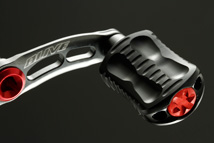 Knob
knob Oval type of new design made of resin.
Reasonable thickness By to have, other than the oval faction, was to design anglers there is no sense of incongruity of both the round knob faction.
Surface has been processed design, such as to suppress full advantage of the slip.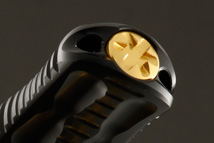 Knob cap
knob cap is common design and air steer series. We are working to maximum weight reduction in the detail that was also involved in the details.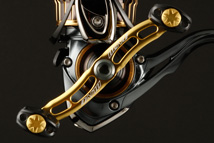 Handle plate
handle portion of the main by 3D processing of strength calculation value limit, we achieve both stiffness and light weight by issuing a three-dimensional effect.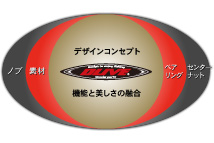 Body, knob, boss, all of the components parts of the non-bearing, etc., have been manufacturing such as motorcycle aftermarket parts / racing parts in the Mie Prefecture, manufactured in our own factory "DLIVE manufacturing factory".
3D CAD, product that is built up in the machinery of the state-of-the-art, including a 5-axis lathe complex machine, has become a unique ultra-high-precision ones.


◆ DLIVE AREA HANDLE lineup

<Product name>
DLIVE aluminum W handle spinning reel for Wave "Air Drive W" 65Mm / 75Mm

<Material>
Aluminum ※ duralumin (arm / boss)
skirt knob: POM resin

<size (pitch)>
65Mm / 75Mm
(knob center of another length to the center of one of the knob) from

<weight>
Daiwa type 1 75mm 17.9g
Daiwa type 1 80mm 18.3g
Shimano type 2 65mm 18.0g
Shimano type 2 75mm 18.4g
Shimano type 80Mm 18.8 g of 2

<colors>
3 color + first Press limited one color
■ black orange
■ drive gun metal
■ Extreme Red
■ Brown gray (2nd lot limited color)

<fit reel>
Shimano Type2
Daiwa Type1
please refer to the compatibility table ※ for more details.


Colors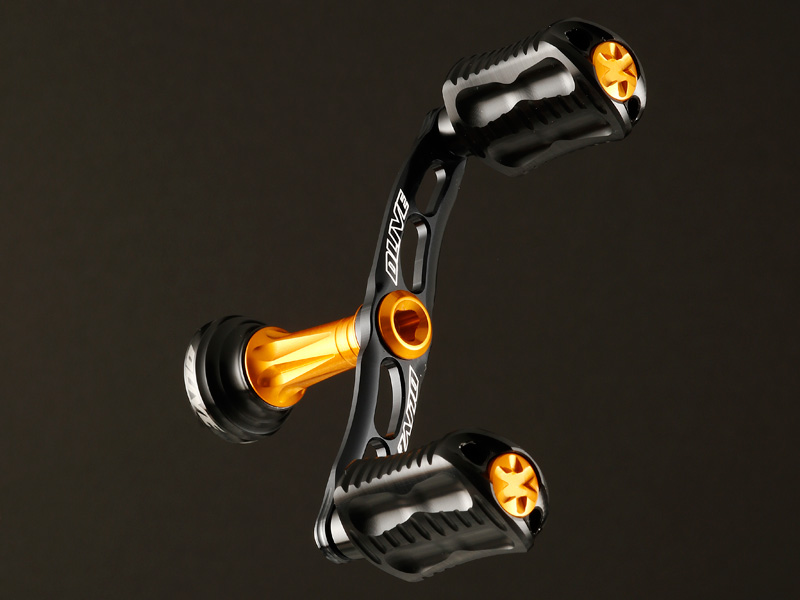 Black Orange
boss: Orange | Arm: Black
Cap: Orange
Center Nut: Orange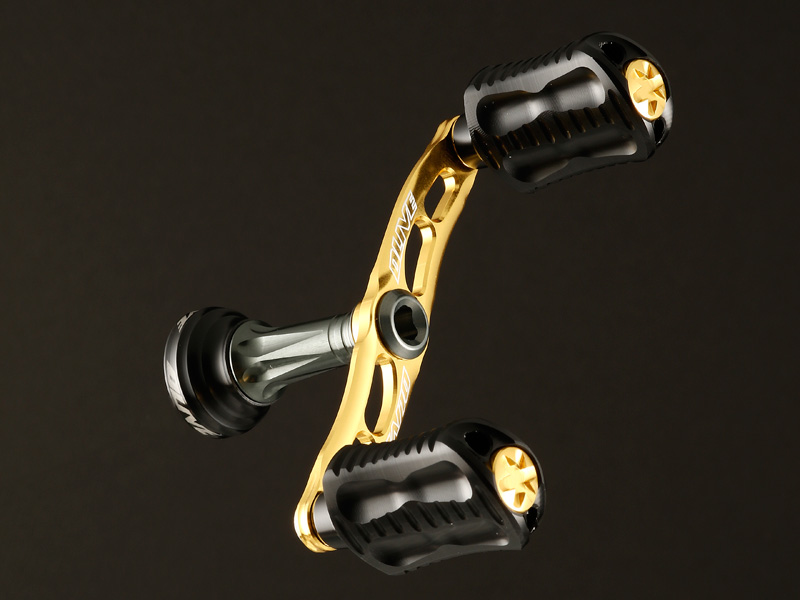 Drive gun metal
boss: Gun Metal | Arm: Gold
Cap: Gold
Center Nut: gunmetal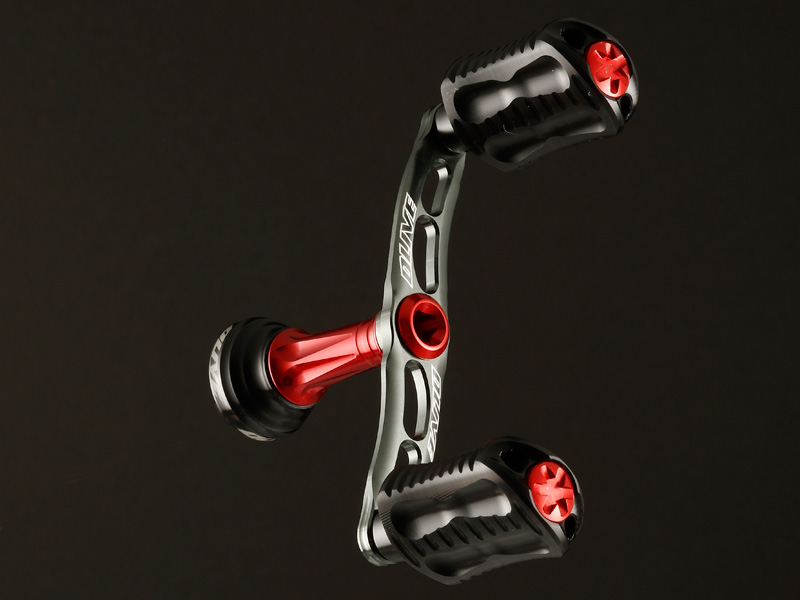 Extreme Red
boss: Red | arm: gunmetal
cap: Red
Center Nut: Red



Silver Gunner (3nd lot Limited Color)
boss: Silver | arm: gunmetal
cap: Silver
Center nut: Silver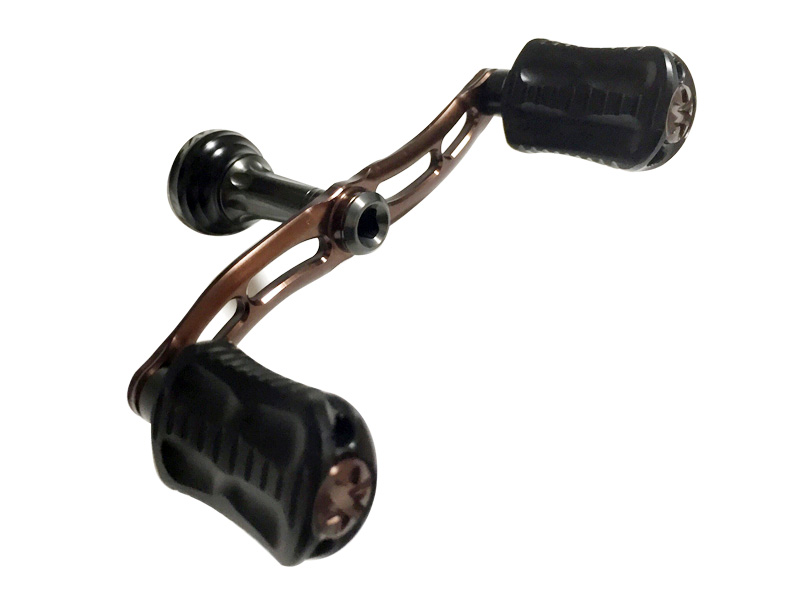 Brown Gray (2nd lot limited color)
boss: Gun Metal | arm: Brown gray
cap: Brown gray
Center nut: gunmetal


<fit reel>
■ SHIMANO Shimano use ■
14 Stella 1000 - C2000 class
10 Stella 1000 - C2000 class
15 Twin power 1000 - C2000
11 Twin power 1000 - C2000 class
11 Bio master 1000 - C2000 class
16 Vanquish 1000 - C2000
12 Vanquish 1000 - C2000 class
12 Reaniumu CI4 1000 - C2000 class
12 Cardiff CI4 + C2000 click Scan
10 Soare CI4 C2000 class
13 Soare CI4 + C2000 class
13 Soare BB C2000 class
12 Arutegura 1000 - C2000 class

■ DAIWA for Daiwa ■
05 Igujisuto 1003 - 2004
12 Igujisuto 1003 - 2004
15 Igujisuto 1003 - 2004
08 Ignis 2004
14 Ignis 2003
04 Seruteto 1500 - 2004
10 Seruteto 1003 - 2004
13 Seruteto 1003 - 2004
16 Seruteto 1003 - 2004
07 Rubiasu 1003 - 2004
12 Rubiasu 1003 - 2004
11 Cardinal 2004
14 Cardinal 2004
08 EPIPHYLLUM OXYPETALUM
13 Aegis 1003 - 2004
08 Presso 1003
14 Presso 1025 - 2025

※ Please contact us for correspondence regarding the other models.