[IOS factory] IOS for Cardinal economizer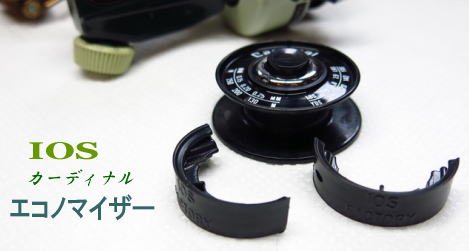 Winding unevenness of the line also, of not needed under winding would be handy adjustment, ultra-lightweight economizer the emergence of ultra-fine PE line corresponding corresponding to the Cardinal 3/33.


■Key Features

1. under-winding line by 4lb line lets loose 100m in not need under winding is you can save a lot.

2. economizers Cardinal specific reverse taper winding or forward taper winding, can be brought close to parallel winding by arbitrarily setting the unique diagonal shape.

3. spool total weight is the weight of the reel is lightly be greatly reduced, it will also be lightly wound.

4. clear line also, similar colors black color to blend into nature and spool, eliminating the color of discomfort of the lower turn-based.


■Specifications

Applicable models ABU Cardinal 3/33 / 3x / genuine spool only in the corresponding such as 33x



※ product does not have a product that promises a complete parallel winding, uneven parallel winding up at a simple adjustment in advance if you do not approach the, please cope with that you wound with a lower winding angle of the line.

※ Upon installed, but there is no abnormal there may be a gap occurs in the gap between the spool and the economizer.


※ Upon mounting, there is something that is hard to enter the spool set, but on the characteristics to enhance the adhesion of the spool, does not have in a malfunction that get pushed to strengthen.

※ Please perform the careful work so that there is no injury use protective gloves or the like by using a screwdriver or narrow at the time of desorption.


■Installation example

If the current state of the line is wound up in the reverse taper to set the economizer to order taper.

If the current state of the line is up around the forward tapered set to reverse taper the economizer.