[DAIWA genuine product] RCS Rolling Hook Holder
RCS rolling hook holder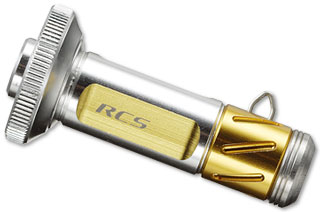 optimal hook holder to run & gun faction
by removing the handle cap, can be mounted in one-touch. Micro-spoon of Egi and for trout is easily applied, comfortable movement. Optimal ball bearing built-in rolling hook holder to run & gun faction.


How to install (Illustration is mounting example of the left handle.)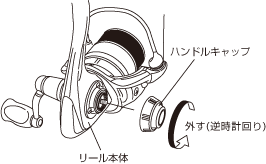 1. Turn the handle cap in a counter-clockwise from the reel body, remove it.
(11 Cardinal of the handle cap is now in reverse screw)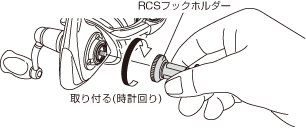 2. It has a base of the RCS rolling hook holder and turn it clockwise.
(In the case of the right handle and attach by turning it counterclockwise.)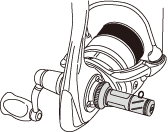 3. RCS Rolling Hook holder reel mounting diagram (reference)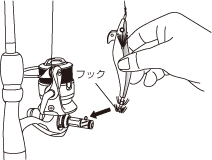 4. Has a Egi and lure, as close to the hook holder.
Note: As in Egi and the lure of the hook does not hurt enough Please note.





5. It hung on the hook holder as shown in the illustration Canna or the lure of the hook of Egi.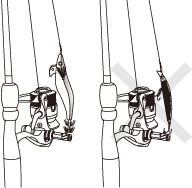 6. Multiplied by the take-up tension of the yarn.
※ during the movement of long distance, please loosen the drag. Winding the rod tip of the rotation of the reel, there is a risk of damage to the tip.


Standard to its own weight: 8 (G)

※ plug and 7g or more of the jig and spoon, because it may damage the reel body, please do not use.
※ top of Stock Now the handle packing as aftermarket parts (surcharge) in the attachment, please attach.
※ can not be used for Cardinal, Cardinal KIX · Furimusu KIX


■Compatibility

◆DAIWA

・18 EXIST
・15 EXIST
・12 EXIST
・05 EXIST

・17 STEEZ

・14 IGNIS TYPE R
・08 IGNIS

・15 LUVIAS
・12 LUVIAS
・07 LUVIAS

・19 CERTATE
・16 CERTATE
・13 CERTATE
・10 CERTATE
・10 CERTATE HIGHGEAR CUSTOM

・17 morethan
・14 morethan

・17 紅牙-KOHGA EX
・17 紅牙-KOHGA AIR
・14 紅牙-KOHGA

・15 EMERALDAS AIR
・12 EMERALDAS
・09 EMERALDAS

・17 月下美人-GEKKABIJIN EX
・08 月下美人-GEKKABIJIN

・14 PRESSO
・08 PRESSO

・13 PLAISO
・13 TRISO

・LUVITO
・CAYEN
・Racing Condition
・LIN


※Compatible with the spool number 1000 to 3012
※Not compatible with spool number 3500 to 4000
※May not be attached to OLD TOUNAMENT・TD-Z・SILVER CREEK
※Not compatible with 04 CERTATE


(For the corresponding model of the reel stand-cap)

to many of the manufacturer's website, only a part of the reel name at the time of product launch are not listed in the corresponding models.
But, there are many things that are also compatible with reel of more new latest model in practice.

With respect to the reel that are not listed on the manufacturer's home page, it is what has been published in HEDGEHOG STUDIO own investigation.
As long as it is purchased from HEDGEHOG STUDIO, please do not worry because it will be attached guarantee those of other manufacturers.

Other, If you have any questions compatible models, please do not hesitate to contact us.