[IOS Factory] C System for Abu cardinal 3/33 (*discontinued)
[IOS Factory] C System for Abu cardinal 3/33 (*discontinued)
Our Selling Price: US$65.45 [Regular Price: US$77.00]
Not available
---
| Description of the product
---
This item improve the Drag of cardinal more smooth
---
| Compatibility

---
■ Cardinal 3,Cardinal 33,Cardinal 3E,Cardinal 3X etc...
※Please contact us if an item you are looking for is not available.
---
| Contents

---
・ 1 C system highly accurate spool shaft
・ 1 Shaft pin
・ 1 C system bearing
・ 1 Washer
・ 3 Felt washer
・ 1 Machined eccentric cam
---
| Instructions

---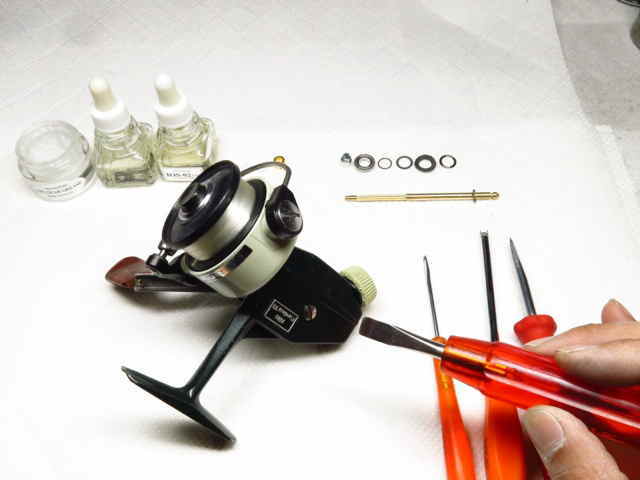 1. Remove a spool, and loosen up the drag all the way.
2. Unscrew and open the gear box.
3. Remove the C-shaped stopper at the end of spool shaft, and pull out the spool shaft.(The original shaft is not supposed to be used.)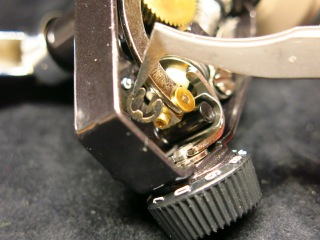 4. Remove the all drag plates and drag washers other than L-shaped drag bar.
If it's difficult, make sure the spool shaft was already pulled out and the loosen the drag dial up all.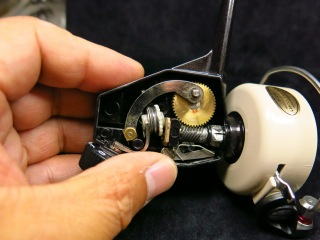 5. Set all parts in advance in the right order as follows.
From the right(spool side) to the left(shaft end side):
Washer, Drag felt, Washer, White drag bush(the original), Aluminum washer, "C" System bearing.
* Please make sure the direction of the White drag bush. The shorter side should face toward the spool.
* Apply a generous amount of grease to the Drag felt.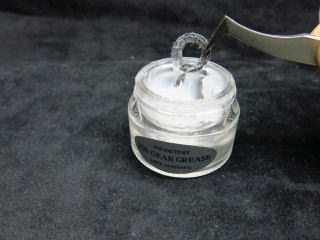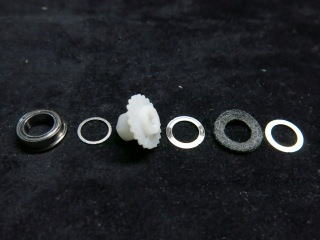 6. Tighten up the drag dial again, and fit the prepared parts unit into the L-shaped drag bar.
Later, cover the fulcrum shaft for the L-shaped bar with an Adjustable Eccentric Cam(cap-shaped).
The original L-shaped plate is not supposed to be used. At this time, tighten the drag a little to fix temporarily.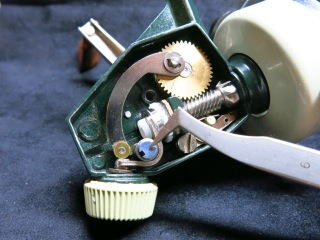 7. Set the new "C" System spool shaft on, and put the C-shaped stopper back at the end to fix the shaft.
Apply some oil to the "C" System and spool shaft.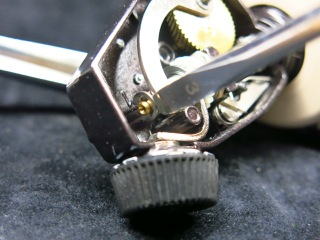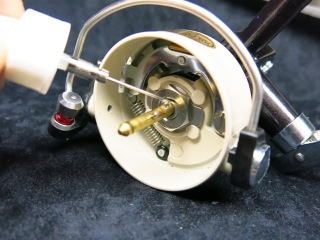 8. If you feel the spool doesn't rewind uniformly enough, adjust the position of the shaft pin with pliers or some other tools.
The shaft pin is already set on the lower hole when it's shipped. If the pin contacts with the rotor nut, please set it on the upper hole, which is almost the same level of the original hole.
* Make sure not to scratch the shaft by protecting with duct tape when using pliers.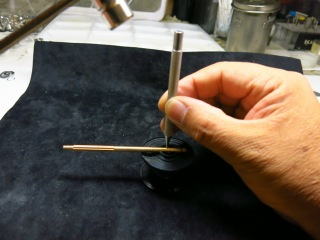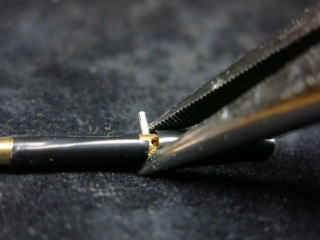 9. Set the drag dial in normal tension, and adjust the drag bar position as it contacts with the bearing at the very center of the shaft by turning the Eccentric Cam with your finger.
Before closing the gear box, set the reel on a rod with line putting through a line guide in order to test the drag adjustment. Please find the best drag bar position if the line come out smoothly.
If turning the Eccentric Cam is too tight, please loosen the drag dial a little.
10. Close the gear box if drag check is just fine.
Refer to the following video for installation.