【DAIWA】Handle Lock Bolt STZ (RYOGA・STEEZ・TATULA・ZILLION)
【DAIWA】Handle Lock Bolt STZ (RYOGA・STEEZ・TATULA・ZILLION)

Our Selling Price: US$9.17 [Regular Price: US$10.78]
◆Product Concept

This Handle Bolt STZ can be used specially when you replace the DAIWA original handle with a custom handle of Studio Composite or Avail on RYOGA, DAIWA Z, TD ZILLION J-DREAM, Megabass IP etc., which are originally equipped with 12mm head handle bolt on.

Also, you can replace a DAIWA original handle bolt with this item on STEEZ, TATULA HD, Megabass IS, ZONDA etc., which are originally equipped with a special bolt(nut) for inside screw type.

You can replace these bolt types with the Bolt STZ.

weight : approx. 1.84g
(RYOGA original bolt : 2.45g)
(STEEZ original bolt : 2.50g)

* Can be used for both left and right handles.


◆Compatibility

・STEEZ CT SV TW

・STEEZ SV TW
( 1016SV-H, 1016SV-HL, 1016SV-SH, 1016SV-SHL )

・STEEZ A TW
( 1016H, 1016HL, 1016SH, 1016SHL )

・STEEZ LTD SV TN
( 103H-TN, 103HL-TN )

・STEEZ LTD SV
( 105XH, 105XHL )

・STEEZ SV
( 6.3R, 6.3L )

・STEEZ
( 100H, 100HL, 100SH, 100SHL, 103H, 103HL )

・ZILLION TW HD
( 1520-CC, 1520L-CC, 1520H, 1520HL, 1520SH, 1520SHL )

・ZILLION SV TW
( 1016SV, 1016SV-L, 1016SV-H, 1016SV-HL, 1016SV-SH, 1016SV-SHL, 1016SV-XXH, 1016SV-XXHL )

・ZILLION TW HLC
( 1514SH, 1514SHL )

・ZILLION TW
( 1516, 1516L, 1516H, 1516HL, 1516SH, 1516SHL, 1516XXH, 1516XXHL )

・TATULA HD CUSTOM
( 150H-TW, 150HL-TW, 150SH-TW, 150SHL-TW, 153H-TW, 153HL-TW, 153SH-TW, 153SHL-TW )

・ALPHAS CT SV
( 70H, 70HL, 70SH, 70SHL )

・MILLIONAIRE CT SV
( 70H, 70HL, 70SH, 70SHL )

・HPF PE SPECIAL
( 7.3R-TW, 7.3L-TW )

・morethan PE SV
( 8.1R TW, 8.1L TW )

・morethan PE TW
( 1000SH-TW, 1000SHL-TW, 1000XH-TW, 1000XHL-TW )

・Catalina TW
( 100SH, 100SHL, 100P-RM, 100PL-RM )

・TD ZILLION J-DREAM
( 5.3R, 5.3L, 6.3R, 6.3L, 7.9R, 7.9L )

・RYOGA
( 1016, 1016L, 1016H, 1016HL, 2020, 2020L, 2020H, 2020HL )

・DAIWA Z
( 2020H, 2020HL, 2020SH, 2020SHL )

・Megabass IS
・Megabass IP
・Megabass ZONDA
・Megabass LIN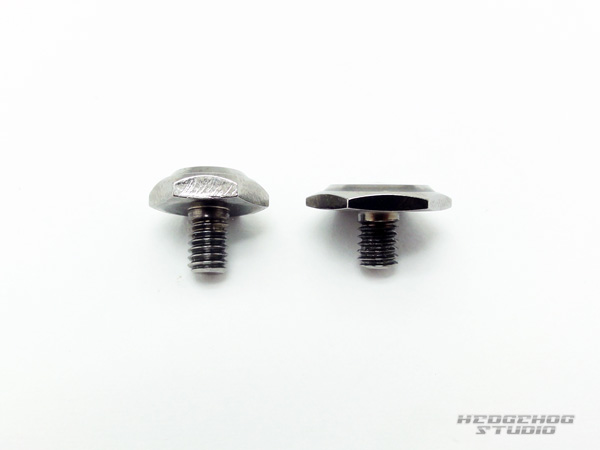 You can replace these bolt types with the new item.

10mm head on the left :
 STEEZ, STEEZ SV, STEEZ LTD SV, STEEZ LTD SV TN, TATULA HD CUSTOM
 Megabass IS, ZONDA
* When you just replace a bolt of these reels with the new item.

12mm head on the right :
 RYOGA, DAIWA Z, TD ZILLION J-DREAM,
 Megabass IP, LIN
* When you replace an original handle of these reels with a Studio Composite or Avail handle, you need the Bolt STZ.
* We don't recommend that you replace with a Bolt STZ with the original handle and retainer of these reels.


◆Color chart


| | | |
| --- | --- | --- |
| | | |
| SAPPHIRE BLUE | SKY BLUE | RED |
| | | |
| | | |
| ROYAL PURPLE | PINK | DEEP PURPLE |
| | | |
| | | |
| LIME GREEN | ORANGE | GOLD |
| | | |
| | | |
| CHAMPAGNE GOLD | BLACK | GUNMETAL |


◆Instructions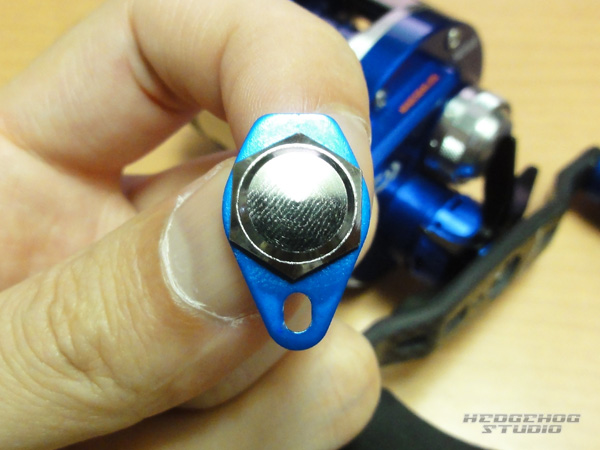 Reel types like RYOGA, DAIWA Z, TD ZILLION J-DREAM, Megabass IP have a 12mm head bolt.
The 12mm head doesn't match the provided retainer's size of Studio Composite and Avail as pictured above.
(Studio Composite's retainer for 10mm head in this picture)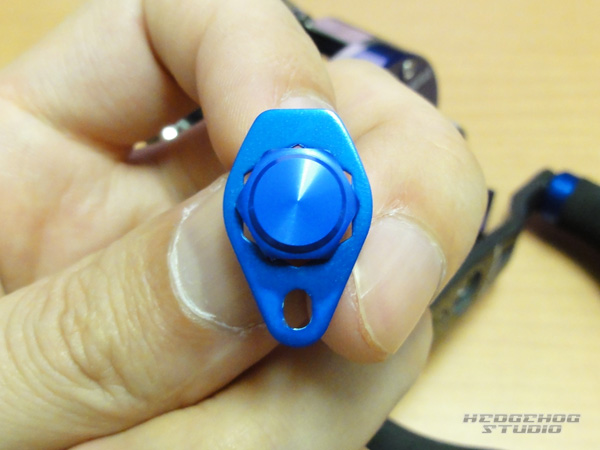 With this Bolt STZ, you can use the provided retainer.
You can choose your favorite from various colors.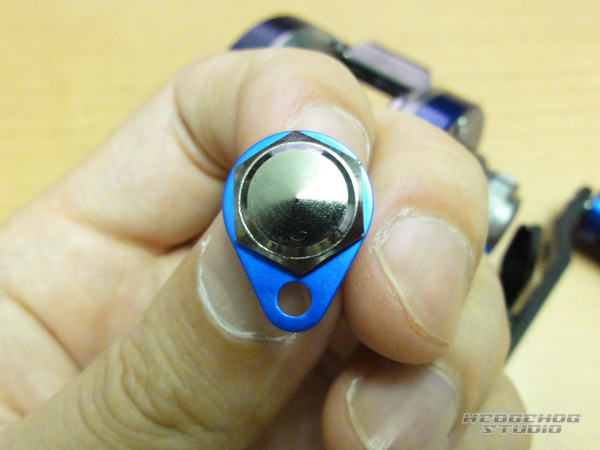 The 12mm head doesn't match the size of Avail's retainer either.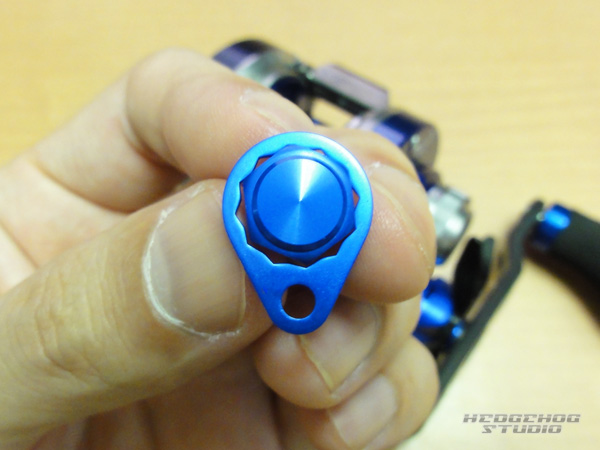 With this Bolt STZ, the size is perfect.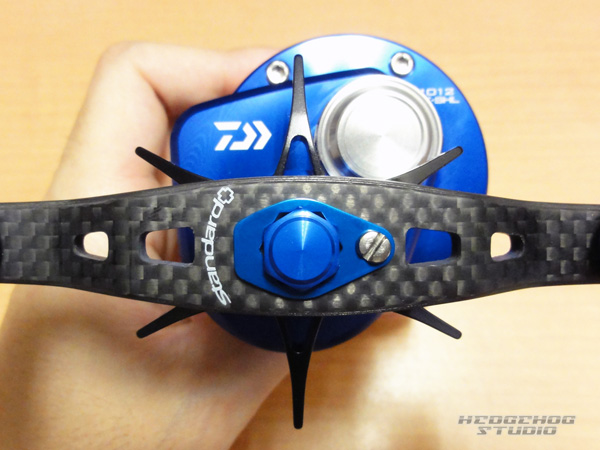 When you would like to replace with Studio Composite's handle on RYOGA or TD ZILLION J-DREAM, fixing handle parts will go just fine with this Bolt STZ.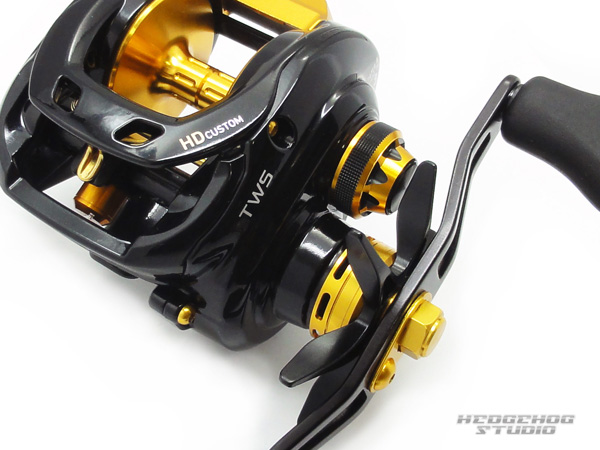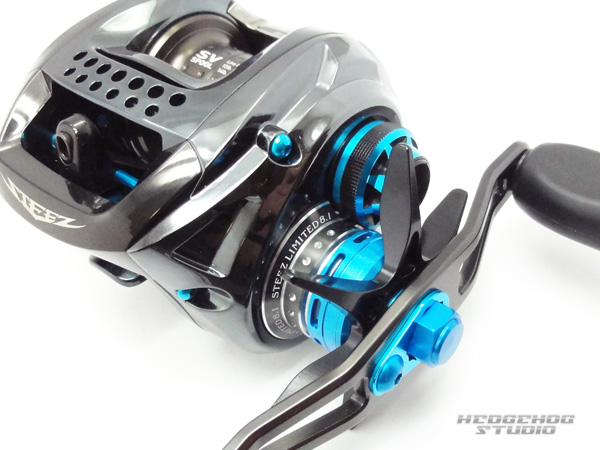 The Bolt STZ can be fitted onto TATULA HD CUSTOM and STEEZ etc..