[Studio Composite] Carbon Crank Handle for SHIMANO RC-SCPlus without handle knob *SCMHASH
[Studio Composite] Carbon Crank Handle for SHIMANO RC-SCPlus without handle knob *SCMHASH

Our Selling Price: US$93.50 - US$102.85 [Regular Price: US$110.00 - US$121.00]
Prices vary according to options.
Not available
---
| Description
---

This is Carbon Crank Handle for SHIMANO reels, manufactured by Studio Composite.
This item is made 1.0mm thicker than the shorter handle RC-SC, more powerful model for a big fight.
You can use this handle without replacing SHIMANO original star-drag.
Handle knobs do not come with this item. Please use your stock handle knobs or custom knobs we offer.
Select the length : 96mm / 102mm
* The length is the distance between the centers of the two handle knob shafts.
|
Accessories
・ 1 Retainer (silver)
・ 1 Screw for retainer
・ 2 Adjustment shims for knob
・ 4 Plastic collars
* Handle nut is not provided, and we sell separately.
We offer compatible nut of Avail and HEDGEHOG STUDIO.
* Ball bearing for the handle knob is not provided.
You may use your stock bearing, or please purchase our upgraded bearing separately.
>>
(Size: SHG-740ZZ×4 )
|
Compatibility
・ CALAIS DC CL200DC/CL201DC
・ CHRONARCH CI4+ CH150CI4/CH150CI4HG/CH151CI4/CH151CI4HG
・ CHRONARCH D CH100D/CH101D/CH100D7/CH101D7
・ CHRONARCH E CH50E/CH51E/CH200E5/CH201E5/CH200E6/CH201E6/CH200E7/CH201E7
・ CHRONARCH Mg 100/101
・ CORE 50Mg/51Mg/50Mg7/51Mg7
・ CORE 100Mg/101Mg/100Mg7/101Mg7/100MgFV
・ CURADO G CU200G7/CU201G7/CU200G6/CU201G6/CU200G5
・ CURADO E CU50E/CU51E/CU200E7/CU201E7/CU200E5
・ CALCUTTA TE DC 100DC/250DC
・ CALCUTTA TE 100/101/200/201/
・ CITICA G CI200G7/CI200G6/CI201G6/CI200G5
・ CAENAN CAE100/CAE101
・ CAIUS CIS200/CIS201
・ 14 CHRONARCH CI4+ /HG
・ 12 ALDEBARAN BFS XG
・ 09 ALDEBARAN Mg/Mg7
・ 12 ANTARES
・ ANTARES DC/DC7/DC7LV/AR/5/Ver2
・ 13 Metanium /HG/XG
・ 07 Metanium Mg/Mg7/MgDC/MgDC7
・ 00 Metanium Mg 
・ 05 Metanium XT
・ 14 Scorpion
・ 11 Scorpion DC
・ 10 Scorpion XT 1000/1001
・ 09 Scorpion XT 1500/1501/1500-7/1501-7
・ Scorpion Mg 1000/1001
・ EXSENCE DC
・ CARDIFF 50S DC/51S DC
・ SPEED MASTER
・ 14 CALCUTTA CONQUEST
・ CALCUTTA CONQUEST DC
・ CALCUTTA CONQUEST 50/100/200
・ 05 CALCUTTA 50/100/200
* You don't need to replace the original drag. The original drag can be used with this handle.
* If you need a handle lock nut to fix this handle, please purchase "Handle Lock Nut M7" for SHIMANO.
>>
Avail Handle Lock Nut M7
>>
HEDGEHOG Handle Lock Nut M7
* If you would like to replace with our Handle Lock Nut Set (with Retainer and Screw), please select from the following page.
>>
[SHIMANO] Handle Lock Nut Set B-type (M size)
This is the special set compatible only with this Studio Composite handle for SHIMANO.
* Please contact us if item you are looking for is not available.
---
| Buyer's Impression
---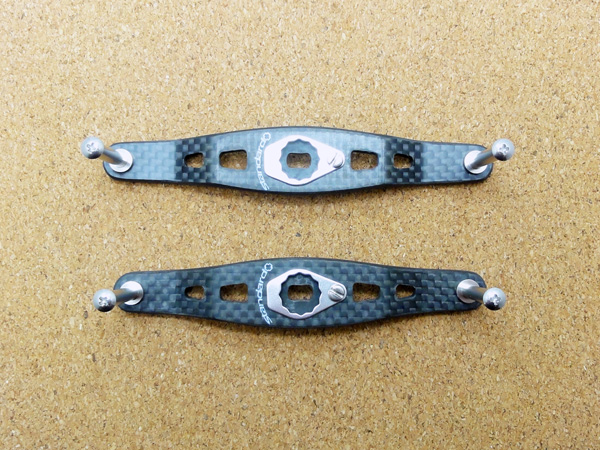 Handle length : 96mm / 102mm
It is quite useful to replace with a long handle more than 90mm when you use a super high gear reel to catch a monster fish.
This carbon handle has relatively high rigidity because it's made thicker than standard products.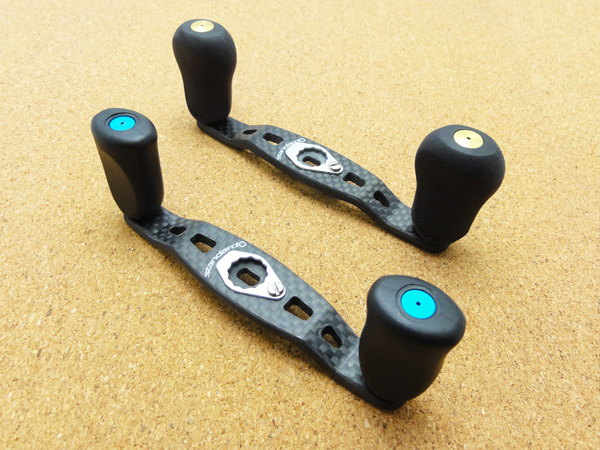 The provided retainer is just for Studio Composite handle.
You cannot use HEDGEHOG STUDIO's or Avail's retainers for SHIMANO original handle because the length is different.
Handle nut doesn't come with this handle. If you need a nut to fix this handle, please purchase "Handle Lock Nut M7" for SHIMANO.
This handle accepts most handle knobs of SHIMANO and DAIWA. (SHIMANO: type A, DAIWA: size S)
Almost all of standard handle knobs that come with baitcasting reel are compatible with this handle.
* ABU original knob is NOT compatible.
---
| Gallery
---