[LIVRE] Q.R.A (Quick Response Adjustment) *LIVHASH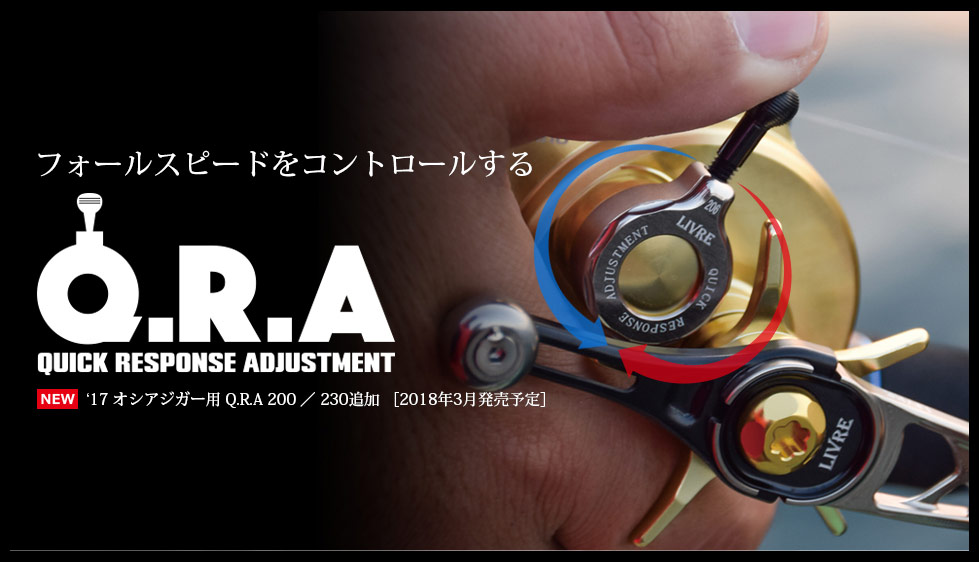 Attention!
* Q.R.A 197 : Compatible only with a LIVRE handle on OCEA CONQUEST 300/301
* Q.R.A 206 : Compatible only with a LIVRE handle on OCEA CONQUEST 200/201



Description

Q.R.A

remain in control of I think the mechanical brake
mechanical brake is in jigging scene, would not you are using almost remain constant be adjusted once.
This is, it is a mechanism that can not be adjusted and not stop once its hand in fishing operations will be a big factor.
Therefore LIVRE has developed a lever shape that can be attached to a mechanical brake QRA (Quick Response Adjustment).
Quickly and smoothly by controlling the mechanical brake, or to reduce the trouble at the time of casting, it is possible to entice the fish intentionally loosen your fall speed example.
Not just a mere dress-up, appeared item to be awakening a new function

Comfortable operation not stop the hands of the fishing
if caused to move forward with the thumb of the hand holding the handle interference is a mechanical brake, you can loosen by pulling in front with the index finger.
Tightening at the time of casting, landing after loosening in order to Fall jig smoothly, such as tension fall which made full use of the mechanical brake as a means of invitation, you can at will.

How to install the
QRA is, you put on the mechanical brake from once remove the shaft.
And after putting the resin washer into the hole of the shaft, screwing the shaft, adjusted to favorite locations by hand tightening, and tighten about 10 minutes with the included tool (60 °) to 15 minutes (90 °) with your please use.
If you do not attach the resin washer, there is a possibility that scratches on the mechanical brake cap.