Description
* It includes 2 pieces of handle knob.
This EVA knob is available for genuine handles of DAIWA and SHIMANO as well as Avail.
* Usable not only for bait-casting reel but also for spinning reel
* Not compatible with the handles of Abu Garcia because the diameter of handle shaft is different
This item will be well-fitted with a genuine product (handle shaft) if the type of reel is to have 2 bearings on each handle knob shaft.
* The handle knob caps are not sold separately.
SHG-740ZZ
http://www.hedgehog-studio.co.jp/product/1014
ECC-740ZZ 4 piece set
http://www.hedgehog-studio.co.jp/product/2208
Product Concept
ハンドメイドクランクを作成するルアーブランドとして有名なmibro代表・塚本謙太郎氏監修のハンドルノブ登場!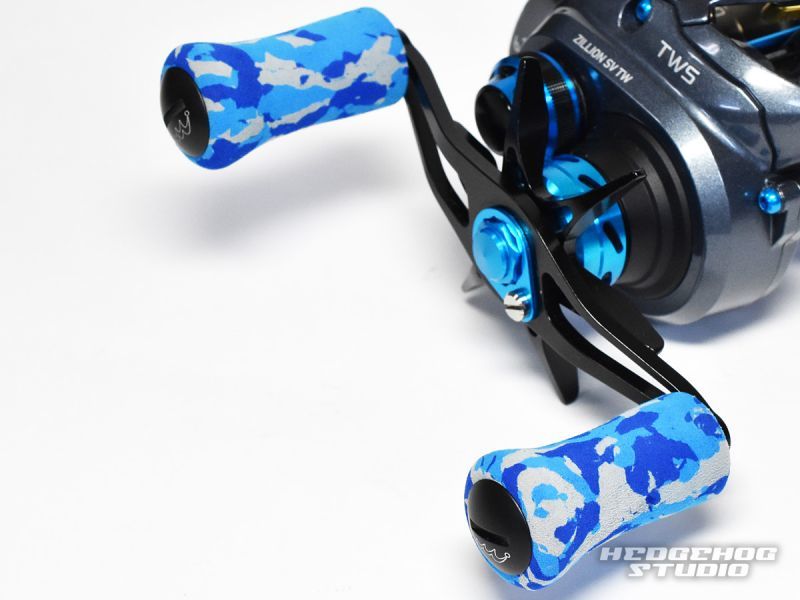 3つのCというご提案
個人的にハンドルノブの形状や材質が非常に気になる質です。
最近は色々な個性を持ったリールをテクニック毎に使い分けている方が多いと思いますが、気になるのはハンドルノブの形状。メーカーによっては勿論、モデルによってハンドルノブの形状が違うなんてのが普通になってきました。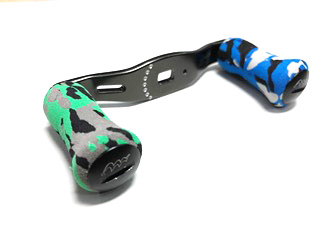 しかし、ハンドルノブというのはアングラーとタックルを繋ぐインターフェース。凄く良いリールなのにどうもノブがしっくりこない、又はこっちのノブと同じのがついてればいいのに・・・。そんなストレスを解消出来ないものかと考えていました。
インターフェースであるノブを統一する事で、リールの個性や性能をより発揮しやすくなり、タックルを持ち替えた際の違和感を極力無くしたい・・・。そんな構想からハンドルノブをデザインしてみる事にしました。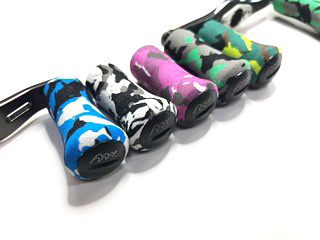 "どうせやるならば、あらゆる可能性を考慮してとことん拘りたい…"という事で、まずは素材から。
以前使っていたラバーコルクの物は使っているうちに油分を吸収して表面がツルツル滑るように・・・。経年劣化や気温差でベタベタするような樹脂系もNG。という事で形状加工しやすく、色、硬度のバリエーションが豊富なEVAを採用。内部構造は軽量かつ高強度のアルミニウムを使い、高い精度で切削する事でガタがなく、非常にスムーズなハンドルノブを作る事が出来ました。
38mmという長さは大き過ぎず小さ過ぎず、クラッチリターンなどのトラブルが少ないのでシャローを軽快に撃ちやすく、普段は2本指でリトリーブコントロールしながら、ファイト時など力を入れてクランクする際は3本指でも摘める絶妙なサイズ感になっています。
形状は、断面が丸形の為、ソフトベイトやジグのようにロッドでアクションをつけて、余ったラインを巻き取るような断続的にタッチする場合でも、指の中で平たい部分を探すような無意識動作がなく、また先端部分がフランジ状に広がっている為、巻き物を使った際の巻き合わせでもすっぽ抜ける事がありません。
そして、せっかく多彩なカラーを表現出来るEVA素材ですので、カラーバリエーションにも拘ってみました。ポップで楽しいカモフラージュ柄5色をラインナップ。タックルを一目で見分ける為のアイコンにしてもよし、仲間のタックルと間違えないようにパーソナルカラーにしてもよしです。
Spec
・Weight : approx. 7.6g
・Length : approx. 41mm (including the end cap)
・Maximum diameter : approx. 21mm
- Accessories:
2 Main unit
2 Handle Knob Cap(already attached)
6 Adjustment washer
2 Spacer
* Bearings are not included. So please prepare 4 bearings(4mm x 7mm x 2.5mm).
Color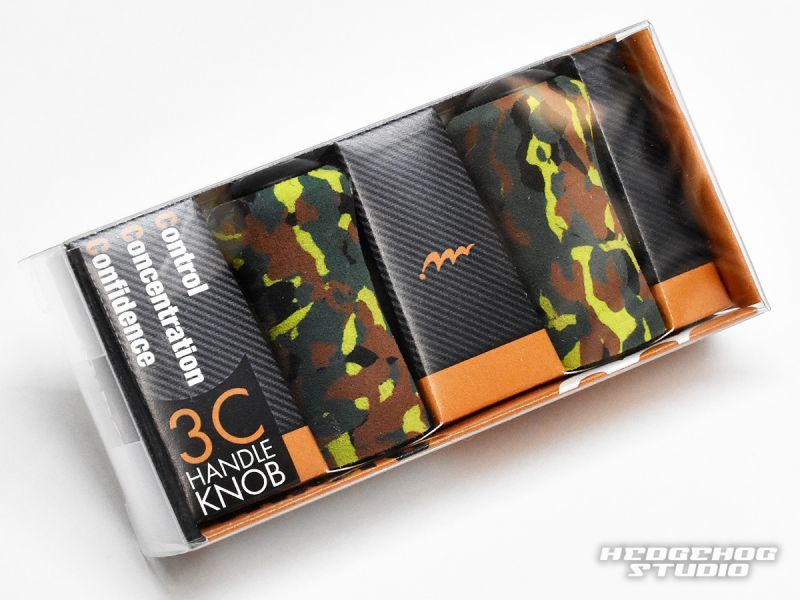 #01 Woodland Camouflage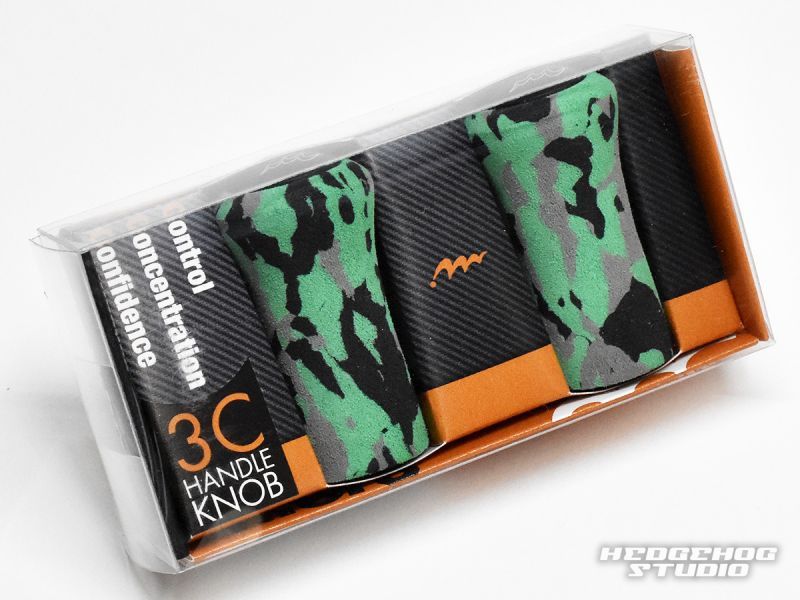 #02 Green Camouflage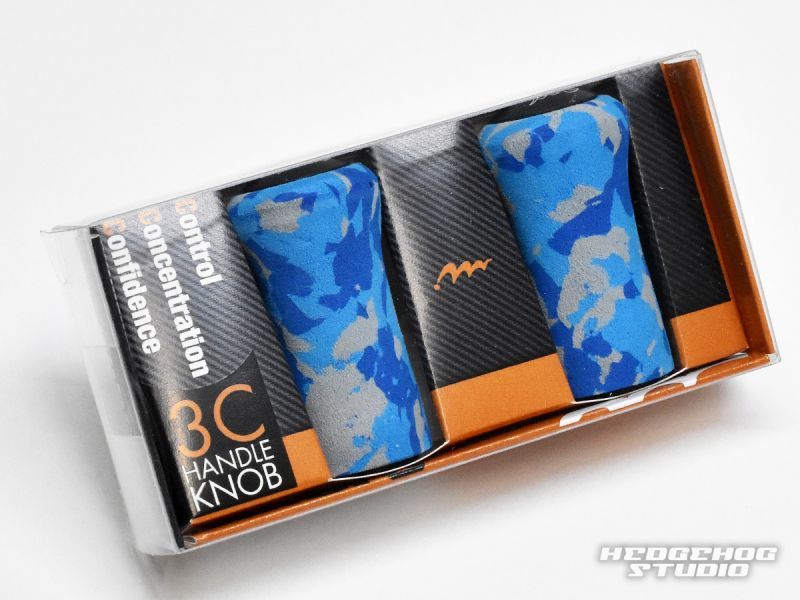 #03 Marine Camouflage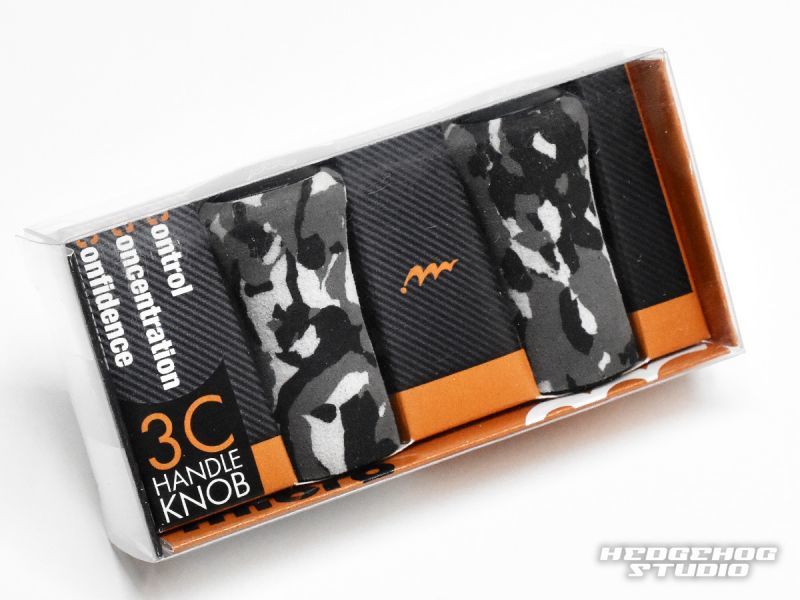 #04 Black Camouflage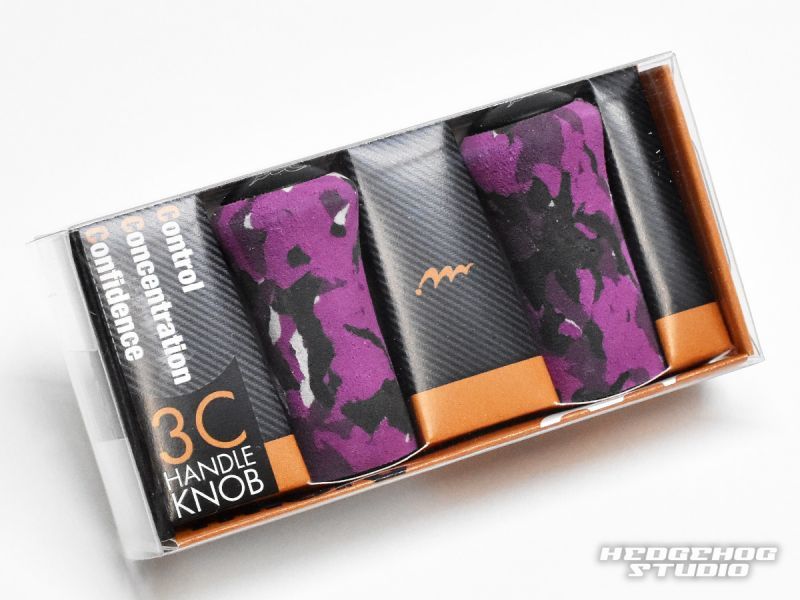 #05 Lavender Camouflage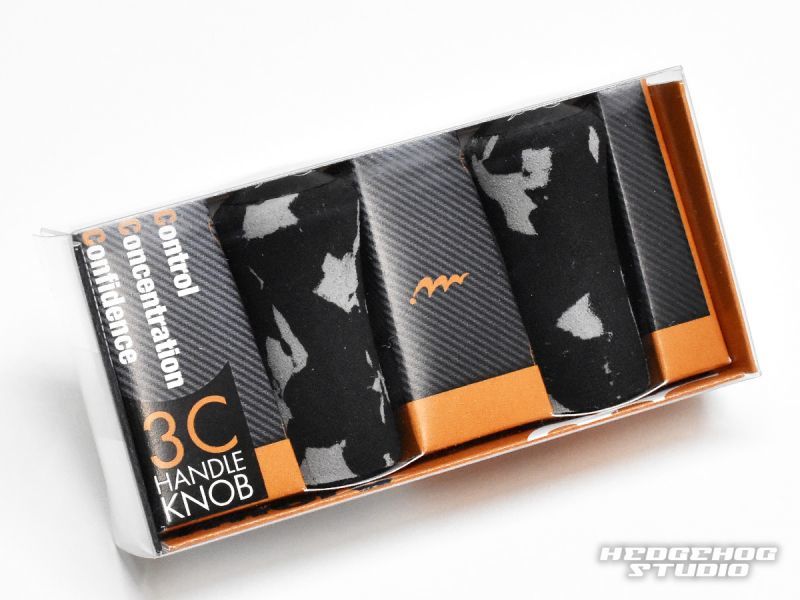 #06 Dark Camouflage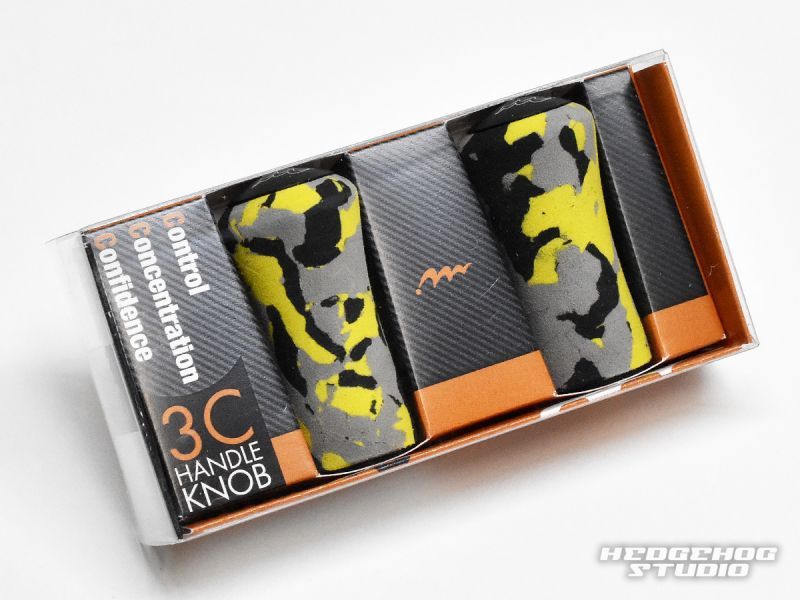 #07 Yellow Camouflage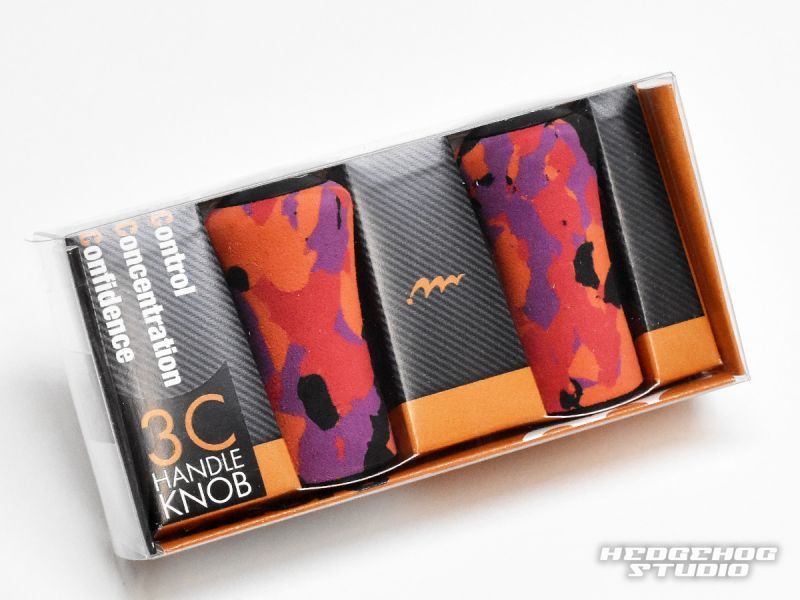 #08 Red Camouflage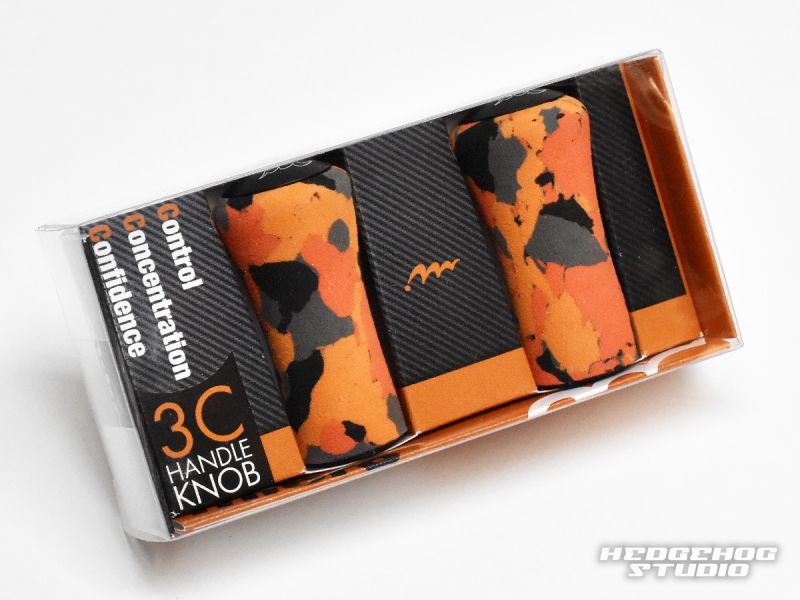 #09 Orange Camouflage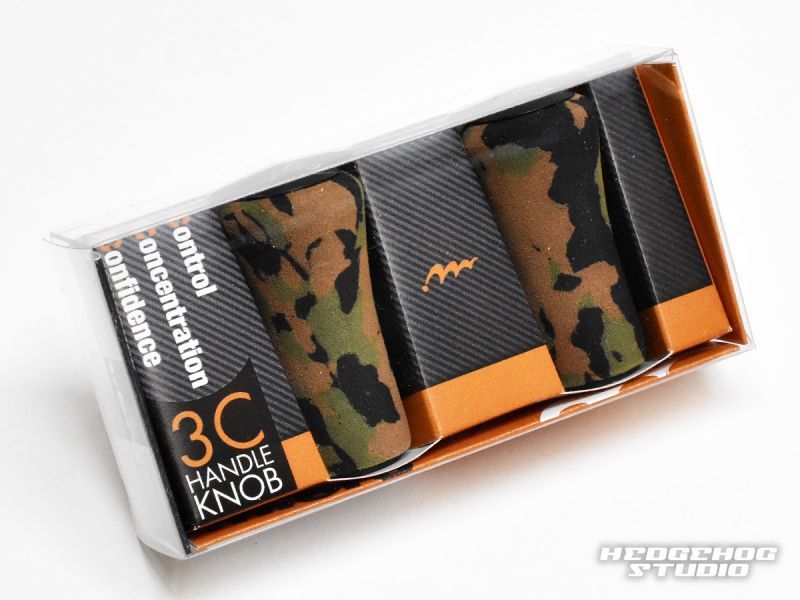 #10 Tropical Camouflage
Compatibility
SHIMANO : Handle Knob A type
DAIWA : Handle Knob S type
* Can be used for both baitcasting and spinning reels.
- Baitcasting reels : Most types
- Spinning reels : spool #1000 - #4000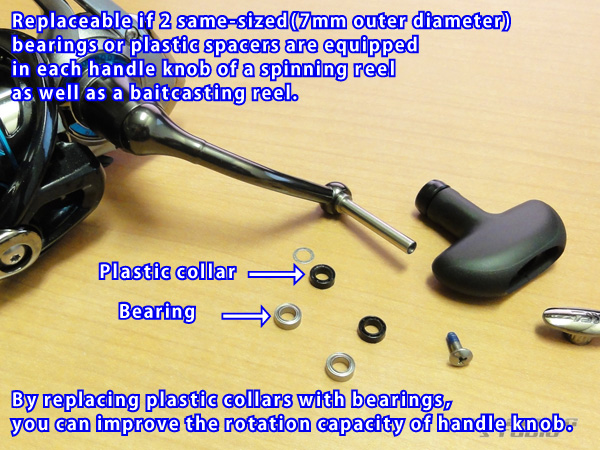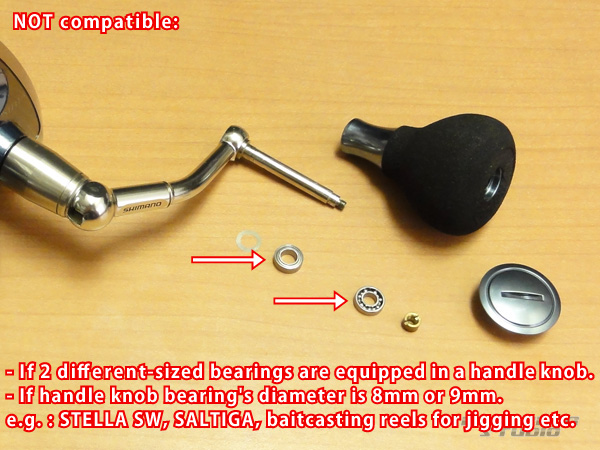 Gallery